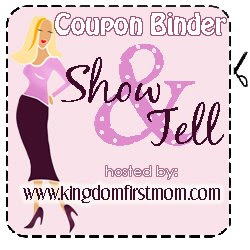 One of the best things about blogging is the sharing of ideas and sense of community that builds. Several of you have shared with me how inspired you were by my coupon binder.
Although I was completely caught off guard, I was thrilled to read about other moms taking steps to save money.
Inspiration struck. Why not have a Coupon Binder Show & Tell? Better yet, I'll make it a giveaway, with a really sweet prize for one lucky blogger!
Here's how it will work:
Tomorrow morning (I am not promising a time, it all depends on how quickly the caffeine kicks in), I will add a Mr. Linky at the bottom of this post.
Post an explanation, preferably with photos, of your coupon binder on your blog. (A few of you have already done this). You can grab the nifty button above, designed by my fabulous friend Karen.
Include a link back to The Coupon Binder Show & Tell at Keeping the Kingdom First in your post. Come back here, and drop your permalink in Mr. Linky. Please link directly to your post, not your homepage.
Because I don't want anyone to feel left out, you do not have to be a binder fan. Feel free to post about whatever system works for you.
Oh yes, the giveaway. The contest will close on Friday, August 15th at noon.  (Now closed) That way you have plenty of time to perfect your system or start a binder if you so desire. (Not to mention, I will be on vacation next week.)
I will use random number generator to select the winner, and announce the lucky blogger on Saturday, August 16th.
What's that? You want to know the prize? Oh… but I love suspense, so I am not telling just yet. But, I promise it is a good one.
So…get those coupons ready! Show the world some coupon love! Who knows…we may just start a whole coupon binder revolution.
On your mark… get set… GO!!! Mr. Linky is waiting!