The following is a guest post from Andrea of Mommy Snacks. Her blog is a great resource to fill you up with goodies (aka "mommy snacks") on topics like sweet deals, diets, faith, cooking, finances, daily living, and whatever else!
Andrea was one of my very first bloggy friends, and I am thrilled that she agreed to guest post!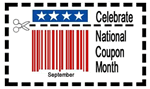 Did you know this month is Coupon Month? Who knew they had a month to celebrate coupons! I thought I would share some interesting statistics about coupons and coupon usage in honor of this month! I read a very interesting web article that outlined a survey conducted by the Promotion Marketing Association Coupon Council, a few little fun facts in the 1,000 people surveyed include:
89% of the overall population report that they use coupons when shopping.
97% percent of primary shoppers report that they use coupons at supermarkets.
7% savings is put into the pocket of coupon users.
The average person who spends around 20 minutes a week clipping coupons can save up to $1,000 per year!
Families with an income between $25,000 – $50,000 are those that clip the most – at 94% of all those surveyed.
Here's what I started thinking upon reading this study. Are we, as couponers, really in the majority? It's almost as though they surveyed everyone who reads Keeping The Kingdom First to get at 97% of people using coupons. I just wonder who the demographic was because it seems high to me. How many times do you go to the store and see a line of people NOT using coupons? Every time I go, many people aren't using them. I really feel like couponers are in the minority so I wanted to find something that gave me a little more data to support my thinking

A great study found here from Scarborough Research states that only 27% of individuals nationwide [in this particular study] clip coupons at least once a week. Of course, many people who follow frugal sites probably coupon at least that amount (and we know how to organize them too)! This study also states couponers spend slightly more (with slightly being only $4 more per week) in their shopping trips because we purchase a variety of items. While I don't disagree with that, I think couponers coupon more effectively and make that extra $4 go about $30 because we plan before CVS'ing (or shopping, in general)!!
So, what do we do with this information? While one study says we're in the majority, the other states we as coupon users are in the minority. Either way you look at it, I'm happy I'm in there somewhere and saving tons of money too!
Happy Coupon Month!
Resources:
Consumer Internet Survey Panel of 1,000 people
Scarborough Research: Internet Coupon Usage up 83% in American Households
Who's Using Coupons: Article by CouponMom, Stephanie Nelson
What an interesting survey, Andrea. I agree, when I shop, I very rarely see other couponers! I do suspect with the impending economic crisis in our country, coupons will gain popularity.
In honor of National Coupon Month, I challenge you, my readers, to share a coupon or two with a perfect stranger while shopping. I have done this more than once, and the look on their faces is just priceless! Perhaps we will begin a couponing revolution!