Welcome to the another installment of my Kellogg's Recipe Series! I have had so much fun pouring over my new cookbook and seeing all the amazing things that can be done with cereal.
This recipe is a delightful appetizer, perhaps for an upcoming Christmas party? Or, it is a cleverly disguised way to get your kids to eat their vegetables.
Either way, it was just yummy, and here is how mine turned out: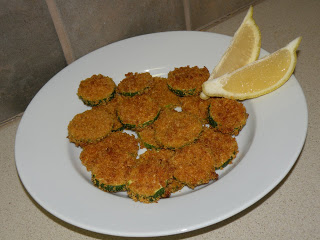 Notice how the zucchini rings looked fried, but they are actually baked. Not only are they frugal, they are healthy too!
Here is the recipe:
"Zucchini is often cut into sticks, breaded, and then deep fried. This take on the old favorite is as delicious, but without the frying. The zucchini has a very delicate flavor, while the spicy, crunchy coating adds some zest. Serves 6″
4 cups Kellogg's Corn Flakes
1 large egg white, lightly beaten
Salt and freshly ground pepper to taste
Pinch cayenne pepper, or to taste
1 large zucchini, well washed, dried, trimmed, and cut crosswise into 1/8-inch-thick slices
1 lemon, cut into small wedges, optional
Preheat oven to 400 degrees

Either lightly spray a baking sheet with nonstick cooking spray or line it with parchment paper.

Place the Kellogg's Corn Flakes in a resealable plastic bag. Seal the bag and, using a rolling pin, crush the flakes to a fine crumb. Open the bag and measure the crumbs; you should have one cup.

Place the egg white in a shallow soup bowl.

Place the cereal crumbs in another shallow bowl. Stir in the salt, pepper, and cayenne to taste. Set aside.

Working with a few pieces at a time, dip the zucchini slices into the egg white, shaking off excess, and then place the slices in the Corn Flake mixture, turning to coat well on both sides.

Place the coated zucchini slices on the prepared baking sheet.

When all of the zucchini has been coated, lightly spray each slice with nonstick vegetable spray.

Bake in the preheated oven for about 7 minutes, or unti the zucchini is soft in the center and the coating is crisp and golden brown.

Remove from oven and season with salt and pepper. Serve immediately with lemon wedges, if desired.
Eat, and enjoy!