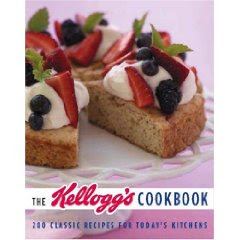 During our visit to Bentonville last month, the elevenmoms had the pleasure of eating breakfast at the Kellogg's headquarters. You can read all about that day over at Amy's blog.
There we learned that research has shown that a Kellogg's breakfast costs an average of only 50 cents per bowl, including milk! That is pretty frugal, in my book. Of course, if you use coupons to buy cereal, the cost goes down even more.
Kellogg's was later kind enough to send a little thank you gift for my family, including a cooking kit for the kiddos and an awesome cook book for me!
The Kellogg's Cookbook: 200 Classic Recipes for Today's Kitchen
Every recipe includes a Kellogg's product, of course. I had no idea there were so many things you could make with cereal!
I'll start with cookies, since many of you may have upcoming Christmas Cookie Exchanges!
Rice Krispies Cookies
1 cup all-purpose flour
1/2 tspbaking soda
1/4 tsp baking powder
1/4 tsp salt
1/2 cup butter or margarine, softened
1/2 cup granulated sugar
1/2 cup firmly packed brown sugar
1 large egg
1/2 tsp vanilla extract
1 cup Kellogg's Rice Krispies
1 cup quick-cooking oats
1/2 cup shredded coconut

"Not your traditional oatmeal cookie–an even better one! Rice Krispies add that extra crunch and the coconut supplies extra sweetness. If you want to really take them over the top, add chopped nuts and/or raisins. Makes about 2 1/2 dozen."

Preheat oven to 350 degrees.
Lightly coat 2 large cookie sheets with nonstick cooking spary. Set aside.
Combine the flour, baking soda, baking powder, and salt in a mixing bowl. Set aside.
Place the butter in the bowl of a standing electric mixer and beat on medium until light and fluffy. Add the white and brown sugars and beat until blended. Add the egg and vanilla, beating to incorporate.
Stir in the reserved flour mixture. When well combined, stir in the cereal, oats and coconut.
Drop the mixture by level measuring tablespoon onto the prepared cookie sheets, leaving room between cookies.
Transfer the sheets to the preheated oven and bake for about 12 minutes, or until the cookies are lightly browned.
Remove from oven and transfer cookies to wire racks to cool.
These sound delicious, and I can't wait to try them. Cookies are definitely a pregnancy weakness of mine!
There is a $1.00 off coupon available on Kellogg's website that may come in handy!