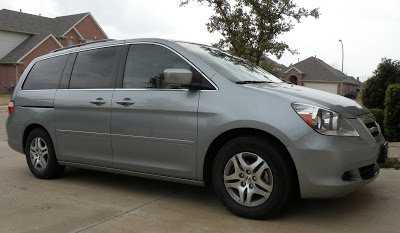 Well, it's true. I am now officially a card carrying member of the minivan driving mommy club. I got a lot of flack from my younger sis' who remembers me swearing up and down that I would never drive a minivan like my mom did.
But here I am, blissfully enjoying my new used Honda Odyssey! With the impending arrival of our 4th little one, extra space is a necessity. A big ol' gas guzzling SUV is just not my style, so I knew that a minivan was inevitable.
Thankfully, this vehicle is actually replacing my husband's every day car, but it will serve the whole family. Hubby will continue to drive our old Volvo, which still has plenty of life in it. That means no new debt, which is such a blessing.
I am amazed at the deal we found on this car! It has all the features we wanted, and then some. If you are truly in the market for a new car right now, the deals are plentiful!
We selected the Honda Odyssey after literally months of research. After careful comparisons and many recommendations from friends, we knew the Odyssey was the one for us.
Using the internet, we compared prices and new listings for weeks. When we saw this one priced about $2000 below Blue Book, we jumped on it.
Although it is a 2005 with 80K miles on it, we know this Honda will keep on running for years to come. My husband still managed to negotiate another $500 off the asking price with the dealer. That brings me to my Top 5 Tips for purchasing a vehicle.
Between my husband and myself, we have actually purchased many more cars than your average 30-somethings. So I do have a lot of experience, good and bad, with buying a vehicle. I have learned these lessons the hard way, believe me!
Need vs. Want:

Before exploring the possibility of a new vehicle, determine if it is truly a need. The most frugal car one can drive is actually

the one you already own

.

Never, Ever Lease or Buy New:

I have done both, and regretted it each time. Not everyone may agree with me, but leasing is never a good financial decision. At the end of one, you have…

nothing

. And usually exorbitant fees for additional miles or extra wear and tear the dealer is bound to find. New cars? They drastically drop in value within the first 2 years of ownership. A used car has already taken this hit.

Do Your Homework:

Start with the internet. Read Consumer Reports, reviews and ratings. Talk to friends and neighbors. Narrow down your options before ever looking at a car in person. Edmunds.com is a great resource and will help determine what price you should expect.

Be Realistic About Your Budget:

Determine well ahead of time what you can spend on a new vehicle. Don't consider the monthly payment, consider the overall cost of the car, including fees, taxes, and maintenance.

Financing:

Of course, paying cash is ideal. But if financing is your last resort,

get it yourself

.  Do not ever haggle over financing in a dealership. Walk in pre-approved with a loan from your own bank, or my personal preference, credit union. This gives you negotiating power. Ask for a better price, and in most cases, you will get it!
I could probably list many more tips, but these are top in my mind. What would you add?