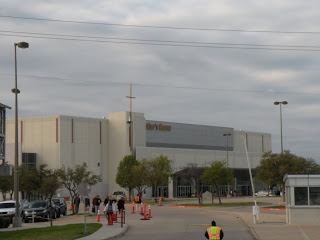 This past Saturday, my husband and I spent 5 hours with Dave Ramsey, and about 9,000 other "weird" people. Now that I have had a few days to digest all that I heard, I want to share it with my faithful readers!
Although I am well-versed in "Ramsey-speak", having read his books, watched his show on Fox Business and heard his radio show countless times, I was super excited to actually see and hear him in person.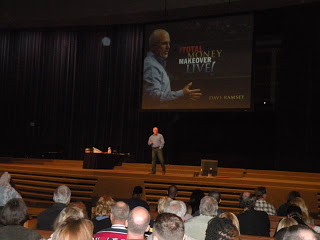 I know his Baby Steps by heart, and have most of his classic one liners memorized. "The advice your grandmother would give you, except we keep our teeth in!"
So why did I feel the need to drop over 100 bucks to see him live? Allow me to attempt an explanation.
First of all, my husband and I are creeping very close to being completely debt free but the house. Suddenly there is a lot more spending money to blow in our budget, if we are not careful. Getting fired up about "being weird" and paying off debt is wonderful, but it can quickly fade if you do not immerse yourself in it. Temptations lurk around every corner.
We wanted to see Dave yell and scream up on that stage, and get mad at our debt all over again. It keeps us motivated, and accountable.
Secondly, Dave is almost like a personal mentor to me. Not in a creepy, stalkerish fan sorta way. I have never met the man!
But hearing him counsel people on TV each night before bed, learning his jokes, and seeing his compassion for hurting people is oddly comforting to me. You see, I have no contact or relationship with my earthly father.
Thankfully, I have a rich relationship with my Heavenly Father, so there is no lack of love in my life. But I never had the common sense financial advice that a Dad might offer his daughter. The wisdom that comes from making mistakes, and passed on to a new generation. Part of me still craves that fatherly inspiration.
So… in a way, Dave Ramsey fulfills that for me. I laugh with him, get mad with him, and learn from him. I believe God has used him in my life, as well as many others'.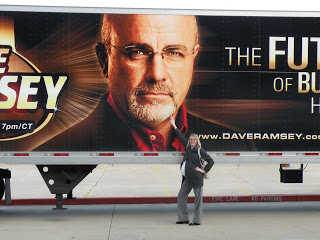 ME & Dave!
One thing that you will not typically see on his show, is Dave's faith. During the event, he made many references to scripture, to prayer, faith, and even Jesus. This was refreshing! It was a side of Dave I had really never experienced.
He was funny, charismatic, and entertaining, but most of all, what he taught was so valuable. What struck me the most, is that he said flat out…"this event will not change your life". Huh?
Isn't that what people were there for, to have their financial destiny changed forever? Perhaps. But Dave makes it very clear that change is a process, not an event, and that it starts with you. None of his advice is rocket science. It is simple, not-so-common common sense.
"Spend less than you make".
Profound, right?
Here are a few other "pearls" I took away that day:
"Personal Finance is 80% behavior, and 20% knowledge".
"The most marketed product in the history of man is the… CREDIT CARD. To even imagine living without one requires a complete paradigm shift".
"Remember that a fully funded emergency fund is not a wealth-building tool. It will rain, and this will be your umbrella".
"A recent study found that when paying cash, you actually spend 12-18% less because spending cash hurts."
"Giving is the most fun you will ever have with your money". (My personal favorite)
*******************
The event lasted 5 hours, but even at nearly 9 months pregnant, it flew by. We did make one purchase while we were there, for our children. The "Financial Peace, Jr." kit, something I have wanted for a while. My daughter has already excitedly determined what she will be saving for– a new bike!
Another highlight for me was meeting a fellow blogger and twitter pal, Amy. Amy and her husband were kind enough to save seats for us. They drove all the way from Oklahoma for this event!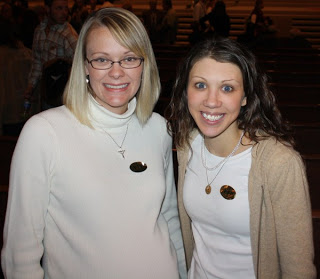 To sum it all up, I am so glad we attended. It was a fun day for the two of us, and a chance to spend some time together before baby arrives. We are more motivated than ever to tackle the rest of our debt.
Even during these tough economic times, I hope that hearing our story of success inspires you. I share our accomplishments not to brag, but because I believe it is important to hear good news, when all the media portrays is doom and gloom.
We'll be calling Dave on a Friday to do the debt free scream by this fall! And when I do, you better believe I will tell you all about it!
Don't forget to check out Dave's upcoming FREE event, Town Hall for Hope.