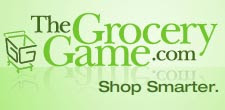 I am a long time user of The Grocery Game, and yet somehow I just discovered this tidbit. The List has gone international!
That means our frugal friends in Canada, France, the UK, Germany, Italy, Japan, and China can now access this great resource.
I know I don't receive many international readers, but a while back I was asked about a Canada list. Knowing how high the cost of living is there, this is great news for Canadians!
I also noticed that there is now an option to view the list in Spanish, as well as English.
If you are not familiar with The Grocery Game, I wrote about my experience here. You can sign up for a $1.00 4-week trial. I believe that stores are added to database periodically, so check back if yours are not yet available.
Even if you are not wanting a long term commitment to the service, it is a great way to learn the ropes of couponing!
One piece of advice I will add to my experience: there is no need to sign up for Walmart, CVS, or Walgreens on the list. There are plenty of resources right here in the blogosphere for those stores, including my CVS $5 Challenge.
Stick with your local grocery stores for the best value.