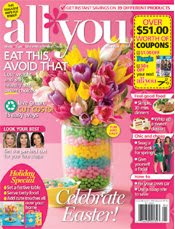 I am not a big magazine reader. Really, I just don't have the spare time or desire to flip through glossy pages of ads or celebrities.
But I do actually subscribe to and read ALL YOU. Not only is it truly a great resource for frugal tips, recipes, and more, it is chock full of one of my favorite things- COUPONS!
ALL YOU magazine is a magazine targeted at "value-conscious American women," and I think that probably sums up my readers pretty well (along with a few value-conscious men too, of course)!
Now, you know that I'm not one to advocate actually spending your hard-earned money on a magazine subscription, but I think this one warrants an exception. Consistently month after month it's chock full of great coupons that you won't find anywhere else. Better yet, often there's at least one coupon that's for a free item.
Where do I purchase ALL YOU magazine?
ALL YOU magazine can only be purchased at Walmart ($2.24 per issue) or through a subscription ($21.24 per year).
But… I am thrilled to offer my readers a special chance to purchase a 2-year subscription for just $17.99.
That's almost 70% off the cover price!
This offer is available for one week only (through Tuesday, April 14th).
Better yet, there is a giveaway! One lucky reader who places an order following the steps below will be randomly selected to receive their 2-year subscription for FREE. (You will be contacted and your money refunded if you are the winner).


How can you order your ALL YOU subscription?
This fabulous offer has been made available through a partnership with Southern Living at HOME!
Ordering Instructions:
Go to the Southern Living at HOME website.
Note: You must use this link to get the discounted price!.
Click on Our Products in the left-hand column and then How To Purchase.
Type in KEEPING in the hostess first name field then click Continue.
Select KEEPING THE KINGDOM FIRST.

In the search box type 40776 then click Go.
Click on All You Personal Subscription then Select this Item.
Select Finalize and Submit Your Order and follow the screens through to checkout!
Notes:
Do not select Direct Ship – the $10 shipping fee is not applicable to magazines.
Your order and the invoice will show $19.95 as the price – I will discount the price after your order is submitted.
Please pay with a debit card during checkout. Do not click submit more than once as this can cause multiple charges.
Magazine purchases are non-refundable – but I doubt you'll find a better deal anywhere else!
More Frequently Asked Questions for ALL YOU orders.
You can expect your first issue to arrive approximately 6-8 weeks after your payment posts!
Do you already receive ALL YOU? A 2-year subscription would make a fabulous Mother's Day gift.