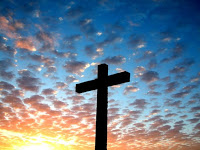 This post was originally published on Easter 2008. I had roughly 10 or so readers way back then. What a year it has been!
In honor of our Risen Lord, I want to share this post once again.
It's pretty quiet on the blog front today, with the holiday and all. Five Seven years ago today, I came across the greatest FREEBIE in all human history.
This Freebie has no links to click, no surveys to complete, no rebate form to fill out, no newsletter to sign up for, and believe it or not, does not require any Extra Care Bucks.
It is open to anyone in the human race, whether male or female, tall or short, young or old, weak or strong, rich or poor, "good" or "bad", and to every color of skin. The one and only requirement to obtain this once-in-a-lifetime freebie, is faith.
What is this incredible gift, you ask? Eternal life, salvation, forgiveness of sins, living water, the bread of life. This freebie is from our loving Heavenly Father.
"For God so loved the world that he gave his one and only Son, that whosoever believes in Him shall not perish but have eternal life." John 3:16
I received the gift of salvation the only way possible: I asked for it, and received it, by faith.
"I am the resurrection and the life. He who believes in me will live, even though he dies; and whoever lives and believes in me will never die". John 11:25
Upon receiving this gift, my life changed dramatically in every way. But that is for another post, another day. Perhaps you have never considered taking what God is offering. I am so thankful that I did, and each Easter I reflect on the joys and struggles of being a Christ follower. In the last year, no other verse has spoken to me more than this one:
"For where your treasure is, there your heart will be also". Matthew 6:21
In other words, where your money goes matters. A lot. I want my heart in the eternal, not the temporal. Join me as I put the "Kingdom First" in my life.