Y'all know how much I loathe the mall. Truly. It is far from my list of favorite places to hang out. But yesterday, I made an exception.
I loaded up the mini van and drove a whopping 45 minutes to a mall I had never been to before (a big adventure for a homebody like myself) to meet up with 3 blogging buddies.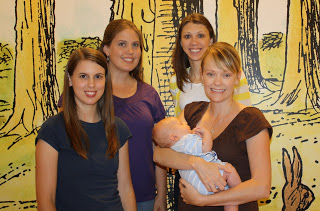 Pictured above are Stephanie and Rachel, who live on the opposite side of the Metroplex, and Amy, who was in town from Oklahoma on a Mission Trip.
I previously met Steph and Rachel at the $5 Dinners Workshop, and Amy and I attended the Dave Ramsey event together.
So why did we meet at the mall, of all places? The heat. It is hot, humid and stormy here in North Texas. So a nice air conditioned play area for the kiddos is the next best thing to the park.
Since I drove all the way there, I figured I should bring a coupon of course. I redeemed this Bath & Body Works coupon for a FREE trial sized signature collection item with any purchase. They are having a huge sale right now, too! Thanks, Deal Seeking Mom!
On the way home, I stopped by Arby's for my free Roast Chicken Club sandwich with drink purchase. Do you know they have freebies every Wednesday all summer long?
It was well worth the long drive. We had a great time chatting it up and they each took turns holding the baby. I was the only one of us who actually made a purchase, can you believe it?
Meeting readers and fellow bloggers is always a treat. Until next time, ladies!