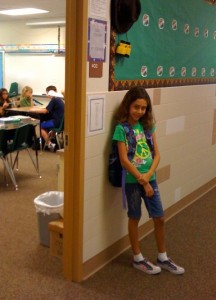 My daughter started 4th grade this week. I can hardly believe I just typed those words. Just yesterday, she was taking her first steps, or so it seems. Now, her head is nearly at my shoulders and she can practically wear my shoes!
First day jitters were not an issue for my social butterfly. Although Sara may say she is sad that summer vacation came to an end, I know she was secretly counting the days until she could return to school. The day was harder on me as her mom!
The night before, I made sure everything was ready for the big day. Special outfit, new backpack, and a nutritious lunch. Sara was so excited she could barely sleep.  But I knew she needed her rest, so I enforced a strict bedtime.
Sure enough, she bounced out of bed in the morning as I groggily started my coffee maker. She was ready in no time at all, and wolfed down her breakfast.
After the traditional first day photos, we walked those few short blocks together to the campus. Now a 4th grader, she is the oldest grade at her school, and I could see that she carried herself with a new confidence.
She eagerly greeted her friends in the hallway, and stopped to give the librarian a hug. It warmed my heart to see her so happy to return. At her classroom door, I anticipated a nervous hug, but instead she waved casually and walked right in.
What a change from just one year before! There were no parents lingering at the door, no cameras (besides mine). I stood at the door and watched her find her desk and calmly sit down. I wondered how she could seem so calm, yet MY heart was pounding with anticipation.
Fourth grade is a whole new world. I felt my heart break a little as I realized she does not need me as much anymore. My girl is growing up. I summoned her over and gave her a long tight hug and a kiss. She grinned widely and returned to her desk, ready to start the day.
I walked home slowly, and reflected on the young lady she is becoming. The house was strangely quiet while I sipped my coffee.  As sad as I am to see her changing, I am so thankful for her energy and eagerness to learn.
Going back to school is an exciting, fun and sometimes, hectic time. To calm the butterflies and build your kids' confidence, Hallmark has put together this great resource to encourage moms like you. Just for sharing a bit of advice, you'll be entered to win a prize package valued at $500! You can check it out over here.
On to the giveaway! I have a $50 Gold Crown Gift Card from Hallmark for one lucky reader.
Congrats to the lucky random winner, #116, Nikki!
For a chance to win:
1. Leave a comment below sharing how you make the first day of school special (initial entry). If you are reading via email or in a reader, please click through to the post to enter.
For Bonus Entries (leave a separate comment for each):
2. If you are a subscriber or follower (thank you!), leave a separate comment. You may subscribe for free updates via RSS or email and leave a comment telling me you have done so.
3. For a third entry, add Keeping the Kingdom First to your blogroll or add my badge to your sidebar. Leave a separate comment with a link to your site.

This contest will close on Friday, September 4th, at 11pm CST. The winner will be selected by random.org and contacted via email. Contest open to US residents only.
Good luck, and thank you for entering!

This post and giveaway were sponsored by Hallmark.  The thoughts and words are all mine!