With the ever growing problem of identity theft, it is so important to keep tabs on your credit history. In addition to Credit Karma, there is a brand new free service for those wanting to view a quick snapshot of their report.
I decided to check out credit.com myself, to see if it would be worth recommending to my readers.
What is the Credit Report Card?
The Credit Report Card is a completely free financial literacy tool that shows you a snapshot of your credit reports and estimated scores according to the leading scoring models used by lenders. It breaks down your credit report into five simple-to-understand categories and gives you a letter grade for each one.
You can request your free report card every 30 days. This has no effect on your score, since this is a "soft" inquiry. Your data is completely secure, and never sold to lenders.
Instead of a number score, credit.com gives you a letter grade, from A-F. It gives you the option to pay for a full report upgrade with monitoring, which I do not feel is necessary. With all the free tools available, you can certainly monitor your own credit throughout the year.
But I do like the quick, simple view that credit.com offers.  Here was my result, as an example: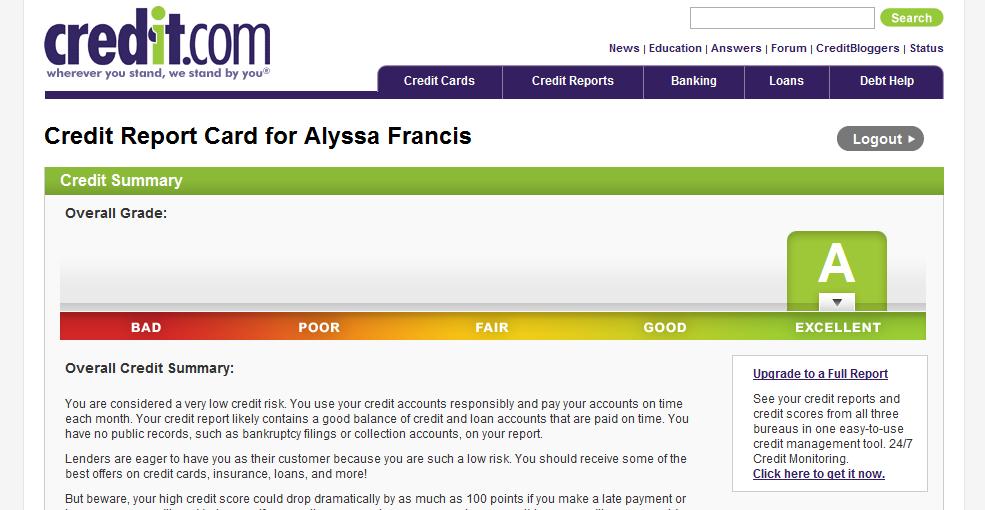 I got an "A", pretty cool, huh?

On a side note, my personal philosophy about credit scores is that they are far less important than what is contained within your report- DEBT. The first step towards getting out of debt is knowing how much you actually have.