Perhaps you've noticed a few changes around here. I decided I needed a fresh new look to go with my new perspective.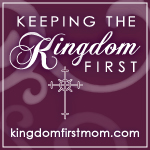 I am so pleased with the beautiful new design. Not a drastic change, but just the subtle refinement I have been wanting. If you typically read my blog via email or a reader, I hope you will click through to see the changes.

I highly recommend the wonderful designer behind my new look- Joy @ Five J's Design. She is a fellow blogger (and a Texan, I might add).
For those of you curious about blogging, my site is powered by WordPress. I moved over to WordPress from Blogger back in May, and I am so glad I finally made the switch!  The user-friendly theme I use is Thesis, and my hosting company is now Uncorrupted. All of which I highly recommend.
Thank you for supporting my blog! Your visits and comments mean so much to me. I am thankful for the opportunity to share a piece of my heart each day here in the blogosphere.