I have been fighting a nasty cold all week. So when I woke up today, I was not sure how I could muster up the energy to do some more giving. Week 3 of The 30-Day Giving Challenge is requiring some creativity.
I remembered the MyPoints account I have, just sitting there. Although I have been a member for about 2 years, I often forget to use MyPoints ever since I became a total Swag Bucks convert.
I logged in to see that I had almost enough points for a CVS Gift Card. Tempting, right? But then I wondered if MyPoints has an option for charitable contributions, like Swag Bucks' Plant-A-Tree program.
Sure enough, under rewards, there is an option to donate points to the American Red Cross. While I am not sure exactly what the Red Cross is able to do with those points, I am sure it must be something helpful.
So I cashed in some points for the Red Cross today from the comfort of my own bed.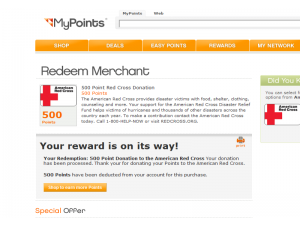 Even if you are sick, it is still possible to GIVE, right?
If you are interested in joining MyPoints, it is a free way to earn rewards like Gift Cards, Airline Miles, and of course Red Cross donations. I do recommend using a separate email address for your account, as many of the offers will fill your inbox. Even just clicking a few emails per week will earn you some points.
I was so thankful for this easy way to participate in the Challenge today. Are you a MyPoints member? Please share your experience, good or bad!