During my never-ending difficult pregnancy last year, I fell off the frugal wagon. Bargain shopping was the last thing on my mind.
Since then, I am back to using coupons, but not with the same vengeance I once had.
And here is why…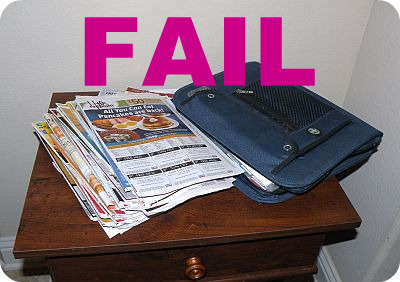 Yep, that's several months weeks worth of coupon inserts. In a pile. Next to my empty coupon binder.
I wrote the date on the front of each one, but that's as far as I got! Sigh.
I love my coupon binder. Really, I do! But it's just not working for me anymore. My family has grown, along with my blog, and there is not as much time to clip and file these days.
Surely there is a better way. I have been (painfully) reminded that without a well-maintained system for your coupons, you just will not maximize your potential savings.
So there you have it. My big. fat. fail.
Operation organize-my-coupons has begun.
What is your favorite time-saving method for your coupons?