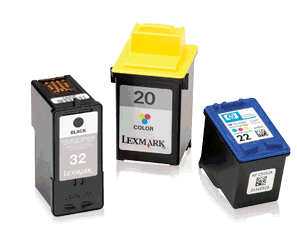 Free printable coupons are more available than ever before. Chances are, if you are new to the world of couponing, your printer is getting a hefty workout!
I am often asked by readers how to save money on costly printer ink. This is a tough question, since there is no one right answer. Different types of printers require different types of ink and the cost can vary greatly.
The biggest question is usually about colored ink.
Can you print coupons in black and white? The short answer is yes, this does not affect the validity of your coupon. However, with coupon fraud being a major issue for retailers, careful cashiers are more likely to question a black and white coupon. Printing in color can eliminate some potential hassle at the register.
Can you print coupons in draft (quick print)? Absolutely. As long as the coupon is legible, it should scan just fine.
A popular option for saving money on ink is to refill your empty cartridges. However, I have heard horror stories about ruined printers with this method, so I do not personally recommend it.
You can take your empty cartridges into your local office supply store for recycling and earn rewards. Eventually those rewards could add up to some free ink.
The best option for saving money on printer ink in my opinion is to purchase refurbished cartridges. These typically must be ordered online, and will require shipping, so be sure to order before you run out of ink!
123inkjets.com is a reputable online retailer for refurbished ink and toner cartridges.
Another option I recommend is 4inkjets.com, with free shipping on orders of $50 or more.
Both companies have 100% satisfaction guarantees, so if there is any problem with your ink, you can return it hassle-free for one full year from the date of purchase. They also accept multiple forms of payment, including PayPal, which is a major plus in my book! There is no sales tax on any purchases unless you are in California (sorry, Mom).
And, to make this even sweeter, if you are a ShopAtHome member, you can earn a 20% rebate on your purchase from either company!  Keep in mind you must reach $20 in your account before you receive cash back, and new members get a $5 bonus with their first purchase.
Do you have other tips for saving money on printer ink?