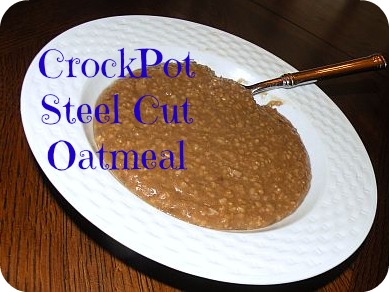 I live for breakfast. It is my favorite meal of the day. So imagine waking up to the delicious scent of fresh oatmeal wafting from the kitchen, just waiting to be enjoyed!
Not just any oatmeal. Steel cut oats. Waaaaayyyy better than the mushy stuff in the microwave. Steel cut oats have a smooth yet hearty texture that the pickiest eaters are sure to enjoy.
Steel cut oats are whole grain groats which have been cut into only two or three pieces. Which means that the inner portion of the oat kernel is not missing so they pack extra  fiber and nutrients! They are golden in color and resemble small rice pieces. The cooking time is a bit longer than traditional rolled oats but so worth the wait!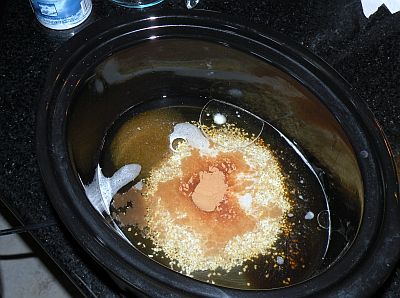 My dear friend Michelle introduced me to this simple method for enjoying steel cut oats- with a CrockPot!  Here is her recipe, which can be tweaked to suit your tastes: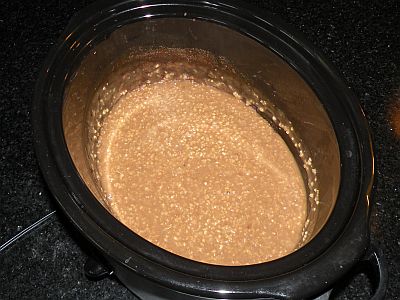 CrockPot Steel Cut Oats Recipe
4 cups water
1/2 cup (plus just a bit extra) Steel cut oats
pinch of sea salt
1-2 tsp. molasses
1-2 tsp. cinnamon
2-3 Tbsp. brown sugar (or sweetener of your choice – I use turbinado sugar)
1-2 tsp coconut oil (optional)
Put all the ingredients in a small CrockPot (aka slow-cooker) and cook for four hours. I have my crock pot plugged into an appliance timer (brilliant!) so at precisely 3 am, the pot turns on and the oats are ready and waiting for breakfast.
You can sprinkle nuts on top, add nuts to the pot or omit the nuts. This serves approximately four. The amounts can be adjusted to your taste and the water/oats can be adjusted to your desired consistency.
Top with fresh fruit and/or milk for extra flavor!
This is such a healthy and frugal way to enjoy your oatmeal. I purchase my oats in bulk at my local Sprouts for a fantastic price.
Have you tried Steel Cut Oats?
This post is linked to What's In Your CrockPot? at Smockity Frocks and Tempt My Tummy Tuesday.