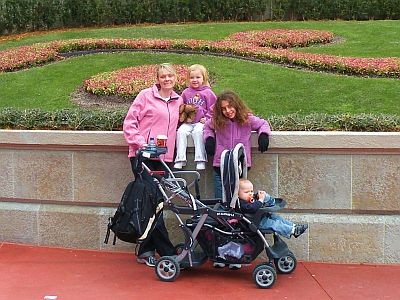 A few weeks ago, my family and I embarked on our first ever trip to sunny freezing cold Orlando for an adventure at Walt Disney World. We combined the Disney Social Media Moms conference with a quick family vacation since the price could not be beat. What a blessing it was to surprise the girls with this trip!
I am no Disney expert, but I do have a few frugal tips from a first timer's perspective:
The cost of food is outrageous. (Seriously- nine bucks for a sandwich?) Either pack your own or opt for a meal plan. Enough said.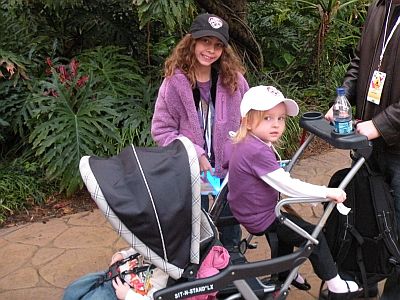 A stroller is a must with young children. We thought about bringing my regular single stroller for Colin. Thankfully a friend gave us her old sit-and-stand double stroller just for this trip so Leah could hop along for a ride. It was seriously a lifesaver! There was way more walking than her little legs could have handled.
Speaking of lifesavers, this little puppy is the best. invention. EVER! The Mommy Hook. (I'll just let the slightly demeaning name slide because I love it so much, m'kay?)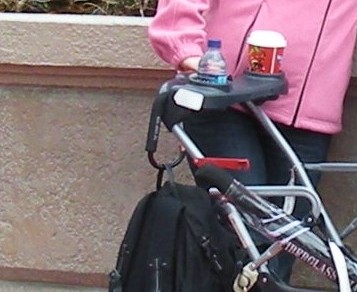 This nifty hook pops right onto a stroller or shopping cart handle so you can hang your purse, shopping bags, or various other items you just don't have enough hands for. It is super strong, so you can load it up with quite a bit of weight. Brilliant!
Check the weather before you go. And check it again. Do not count on the 70 degree average temperatures, because you may end up with 40 degrees with a 3o degree wind chill and

pouring rain

. Just sayin'.
Of course, if that happens, you may have to buy a set of ponchos. And an umbrella. And knit gloves for $8.50 a piece that you already have at home!  Ahem.
Just make sure you check the weather and pack accordingly.
Hit the Disney Outlet Store before you go. I knew I wanted the girls to wear matching T-shirts while at Disney to

look cute

keep track of them. I picked up several shirts ahead of time for only $2.99 a piece- score! I even remembered to grab a souvenir for each girl at the Outlet, and skipped the overpriced venues at the park.
Despite the weather, we had a truly magical time at Walt Disney World. I connected with old and new blogging friends while enjoying and learning more about Disney. But most of all, I cherished the time with my family, and the memories we created.
So, all you Disney buffs out there, let's hear your money-saving tips for doing Disney on a budget!
This post is linked to Life As Mom.
Disclosure: I received discounted accommodations and park tickets and some meals as part of the conference. My attendance was sponsored by Lifetime Moms.