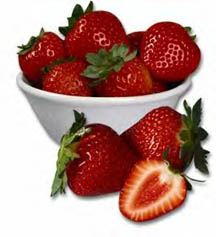 Did you know that strawberries are not actually classified as a berry by botanists? It's true, and I just learned this useless fact today thanks to my friend Stephanie. (She later confessed that she learned this from a Snapple lid. Ha!)
Regardless of what you consider a strawberry, prices are dropping as summer is approaching. If you are stocking up on this healthy fruit, get creative in the kitchen! They freeze well, too, so be sure to grab some freezer bags and save some to enjoy later.
I happen to adore strawberries. My favorite way to eat them? Chocolate-covered. Mmmm. What's yours?
I have rounded up some delicious recipes using strawberries from around the blogosphere. Who knew there were so many ways to enjoy the popular berry fruit?
Strawberry Recipes Galore
Lynn's Kitchen Adventures' Strawberry Pie
Three Cherry Cokes' Very Berry Breakfast Parfait and Homemade Strawberry Shortcake
Eat At Home's Strawberry Pie and Strawberry Shortcake
Beauty and Bedlam's Strawberry Cheesecake Trifle
AllEars.net's Strawberry Soup
Parenting the Tiniest of Miracles' Strawberry Wheat Muffins
Stop & Smell the Chocolates Strawberry Dream Cake and Strawberry Soup
Health, Home & Happiness' Strawberry Almond Bars
Deep South Dish's Southern Strawberry Sweet Iced Tea
From Dates to Diapers' Strawberry Dip
Fake Ginger's Strawberry Cupcakes and Berry Cobbler
My own super easy Strawberry Pie
I'll be adding more recipes as I discover them. Feel free to leave a link to your favorite strawberry recipe below in comments!