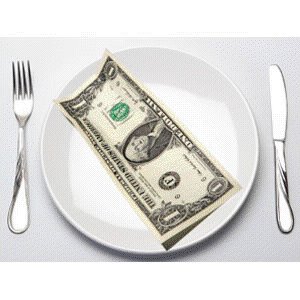 I hope you are enjoying our discussions about dining out so far. You can catch up here and here if you are new to the series.
My friend Rachel of Surviving the Stores has a very timely post about her struggles with making home-cooked meals. I'd encourage you to go read it, if anything for a good laugh.

In all seriousness, I can relate to her struggles all too well. When I got married in 2004, I had been a single mom for four years. Meals for one plus a small child were often quick, thrown together, and microwaved. Becoming an instant family, in theory, was a dream come true. But learning the ins and outs of homemaking has been and continues to be a challenge for me.
Although I had been cooking for many years, my struggle was creating real meals we could all sit down and enjoy together. I have come a long way in this department, thank goodness! My kitchen inspiration now comes from friends right here in the blogosphere.
A recent tweet of mine: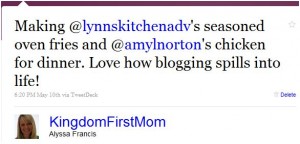 Several nights a week, my family enjoys a meal plucked right from the interwebz. Sure, there are thousands of recipe sites out there, but there is something special about preparing a meal that a fellow blogger and mom has already tested on her family. I have yet to try one that flopped!
A few of my favorite foodie bloggers who inspire me include: Lynn's Kitchen Adventures, My Wooden Spoon, Stolen Moments Cooking and Food for My Family. I also have a few simple recipes of my own to share.
What inspires you to plan and prepare a home-cooked meal if you are not a natural in the kitchen?
Linked to: Works For Me Wednesday