The following is the third in a series of guest posts about gardening from Rene at Budget Saving Mom.
Gardening is such a great way to save money AND still feed your family healthy, organic fresh fruits and vegetables.
Of the four main types of gardening, my favorite is the raised bed gardening. This is how I began gardening.
Although we live on a couple of acres, it is all wooded other than a small area.
Raised bed gardening allows me to grow much more produce per square foot than I could in a traditional tilled garden. You are able to plant in a grid which increases the number of plants per square foot.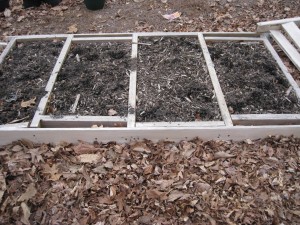 Raised bed gardens are a great way for new gardeners to begin gardening. You can bring in your own soil to begin your garden. This allows you to skip years of building up your soil.
People till traditional gardens to loosen the soil. But in a raised bed, you add the soil, so your soil is already loose and full of air.
One of the main reasons that people give me for not having a garden is lack of time. Raised bed gardening is also a huge time saver. Since these beds are raised above the ground, there are few to no weeds in most gardens.
Basically, you are able to plant your seeds, water for a few minutes on days that you don't get rain, and enjoy the produce that your garden produces.
When I worked full time, this was the only type of garden that I had. I was able to spend about 5 minutes a day on my garden, and still have enough fruits and vegetables for my family to eat at least two meals a day centered around the fresh, organic produce.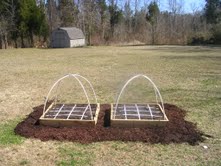 Another question I have been asked is, "So how can you build raised beds, and still save money? Aren't they really expensive?"
When I first began raised bed gardening, I was skeptical about how well it would work.
My first raised beds were actually made from reused, old furniture that was falling apart. I made a bed from my husband's used college bookshelf. The back had fallen off, so I just added nails to the shelf to make it more secure, knocked out the shelves, and had a raised bed.
I also made a bed from a thirty-year-old bed-and-trundle, by knocking out the bottom of the trundle and using the wooden bed frame to make a raised bed.
We recently had our old retaining wall collapse, and there were lots of good railroad ties that I plan to use to make additional raised beds next year.
I also have built raised beds. These are actually my favorite raised beds because they are the perfect size. I can reach all areas of the garden easily, since they are 4×4.
These are really simple to build, and do not cost very much. I was even able to build a couple of these when I was pregnant!
When building raised beds, make sure that the wood that you use is not treated wood. You do not want those chemicals leaking into your food! I have had my most recent raised beds made of untreated wood for years, so do not worry about them lasting.
If you are interested in building your own raised beds, you can check out these videos where I show you step by step how to build raised bed gardens.
Have you considered raised-bed gardening?