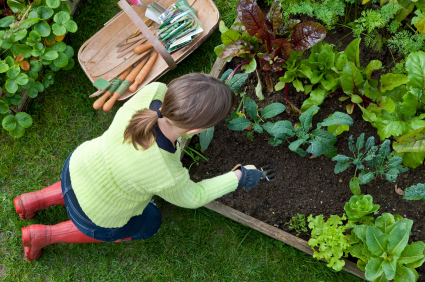 The following is the fifth in a series of guest posts about gardening from Rene at Budget Saving Mom.
Everyone wants a garden without weeds. Rather than using poison, there are many methods that can work to control your weeds more naturally.
Manually Remove Your Weeds
This is a rather obvious way to remove weeds. You can just pull them up. It is easiest to pull up weeds after a good rain.
When you are pulling weeds, you will want to make sure to pull the weeds up including the roots. If the weeds are difficult to remove, you can hoe the leaves.
We also use our tractor and till up the areas between the rows of our garden to help remove the weeds before we cover the pathways to prevent further weeds from growing.
After you pull up weeds, you will want to change your gloves and wash your hands away from the garden to make sure that you remove any seeds from your garden.
You also want to remove the weeds from the garden so that the seeds won't continue to spread.
Use Vinegar
Vinegar is a really incredible herbicide. It is not specific to any weed, so you have to be careful when you use them that you only get the vinegar onto the weeds.
Normal household vinegar is a 5% concentration. However, you can buy horticultural vinegar that is 20% concentrate.
Vinegar can be applied to the leaves of a plant. It works best on sunny days.
You will need to use it on a day when it is not going to rain so that the vinegar won't wash off.
The vinegar will actually kill the weed down to the roots. If you are trying to kill weeds that are close to your plants, you can paint the vinegar onto the leaves to ensure that you only kill the weed.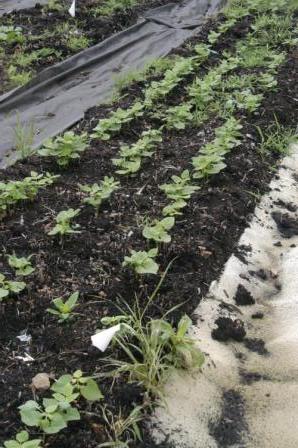 Boiling Water
Boiling water can also be used to kill weeds. You just boil some water, and carefully pour it onto the weed to kill it.
Using Barriers in Pathways
We also use barriers to keep weeds out of our garden.
In the pathways, we have used numerous types of barriers throughout the years. Basically we use what we have on hand.
When we have old carpet, we use that.
This year we had to re-roof our house, and have used the shingles in the pathways to prevent weeds.
We also use newspapers, cardboard boxes, weed control fabric, and gravel. You can really use anything that will block out light to prevent the weeds from growing.
Using Barriers in Your Garden Rows
When using barriers around plants, I try to be a little more careful about what I use.
We have used newspapers to lay around our plants before. When you are using newspaper, you want to make sure that you only use pages that are black and white. Colored ads have chemicals that you don't want to add to your garden.
If you have a smaller garden, you can also mulch around your plants. You just want to make sure that there are 3-4 inches of mulch to ensure that the weeds will be controlled.
Although this is not quite as natural, you can even use garden fabric, and just cut out areas where each of your plants can grow through. The weeds will then be prevented by the weed fabric.
What are your tips for naturally controlling weeds?