The following is a guest post from Molly Ruby of the new (and fabulous) blog Go Running Mom. Molly and I are former colleagues and real life friends.  I asked her to write on the topic of frugal exercise and I am honored to share her voice with you all.
When my kids started their spring activities this year, not only did we shell out the big bucks for team registration and classes, but then came the additional money for equipment: baseball spikes, jerseys, helmets, and dance leotards, tap and ballet shoes. Which of course is typical, but last year, my son grew out of one pair of spikes before the season was even over!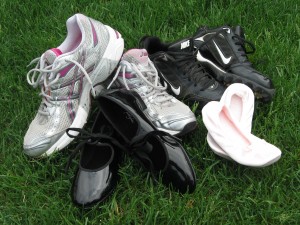 Thankfully there is an effective, frugal form of exercise that women and moms can enjoy where all the equipment (other than a good pair of shoes) is self-contained and readily available…Running!
I have been a runner for many years now, but I really started running regularly again just this past year. In doing so, I realized that of all the activities a mom can do to get some exercise, running is one of the very best because you simply need to lace up your shoes and head out your front door to enjoy all the physical and mental benefits that running has to offer.
Let's discuss those benefits…
Physical benefits: Sustained cardiovascular activity which is good for your heart, lungs, muscles, digestive system, and extremely effective for burning calories!
Mental benefits: Adrenaline and endorphins are exerted and produced when you run, helping you to feel a rush of energy followed by a calm, relaxed state. That release of adrenaline and production of endorphins is why when you talk to a runner, they will tell you that running just makes them feel happy. Personally it also helps me to be more calm and patient with my family throughout the day.
Those are merely just a few of the benefits that running has to offer, but what will it cost you? The fact that you can run almost anywhere keeps the cost down so low that if you already own a pair of comfortable, supportive shoes, your only initial investment is your time.
If you simply invest 30-45 minutes, you should be able to run 3-4 miles AND reap all of the benefits above. Even if you start out walking, you will soon notice an increase in your endurance and can then add a few minutes of running. Moms can even invest this time wisely by pushing your little one in a jogging stroller – you can burn up to 10% more calories, soak up the sunshine and Vitamin D for you and your child!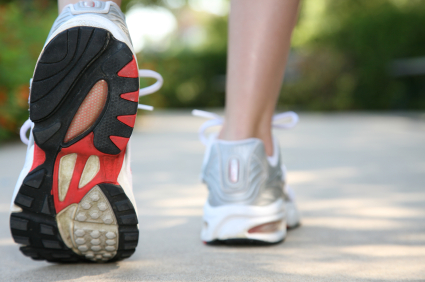 If you are new to running, there are numerous resources available to help you get started and to educate and train you along the way. Here are a few of my favorite FREE running resources:
::Runner's World Magazine – When I first started running I checked out back issues at my local library. Runner's World online offers a wide array of resources from Nutrition: Meal Plans, Recipes, Calorie Counter to a Shoe Finder and Training Logs.
::Run Injury Free with Jeff Galloway – Jeff Galloway is a former US Olympian, founder of the Galloway Marathon Training Program, Coach and Author – Jeff's site is filled with valuable information on how to Run Injury Free until you are 100!
::Famous Footwear – okay, so the shoes are not free, and YES, they bear the budget-breaking price of $100 or more in specialty running stores, BUT here is my frugal shoe shopping tool: Famous Footwear Gold Rewards – the rewards club is free to sign up for and there are several top brands and styles of running shoes to choose from.
The best part is that Famous Footwear often runs a Buy 1 Get 1 Half off sale and you can use Gold Member reward certificates ($5 or $10 off) in addition to store issued $ or % off coupons. If you cannot find your size in the store, they will even ship it to your home for FREE!
Hopefully these resources as well as the physical and mental health benefits I have shared will encourage you to take your first steps as a frugal and FIT mom and will motivate you to Go Running Mom!
Molly Ruby is a running mom of three and wife to an incredible husband who encourages her to go the extra mile in life! Go Running Mom is a forum to share her passion for running with moms and women who want to take charge of their own health and their family's fitness. She hopes to inspire, motivate and challenge moms to Get Up, Get Moving, and Go Running! Be sure to "like" Go Running Mom on Facebook if you enjoyed this post.
For more frugal ways, visit Life As Mom. Running is definitely a Finer Thing!