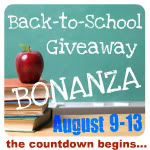 Back-to-school is on everyone's minds these days. I must admit I have barely begun shopping for my girls this year, since I have been rather busy planning our upcoming Back-to-School Giveaway Bonanza!
I have teamed up once again with eleven fellow blogging moms to celebrate Back-to-School in a BIG way. Twelve blogs. Twelve generous sponsors. Over one hundred prizes to be won.
The event kicks off on Monday, August 9th. All week long, giveaways will be posted on each blog with chances to win some incredible products that are guaranteed to rock your socks off. The prizes include back-to-school essentials, of course, and have been carefully selected for kids ranging from preschool through college. There will be something for everyone!
I am truly honored to be working with such an incredible group of ladies on this project. Meet the bloggers bringing you the Back-to-School Giveaway Bonanza:
You can keep up with all the details over on Facebook at our official Back-to-School Giveaway Bonanza hub, and/or follow the hashtag #b2school on Twitter.
Some of the amazing sponsors have already been announced, including…
Mabels Labels, Crocs, Goodbyn Lunchboxes and Agoo Apparel. There are eight more to come, so be sure to "like" the page for updates!
So, are you ready for school to begin? Or are you still enjoying these warm Summer days?