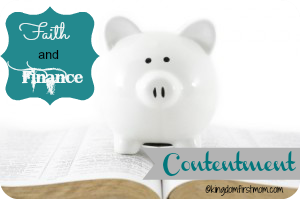 Have you thought about how the principle of contentment relates to your finances? Discontentment with what we have can easily lead to poor financial decisions.
Bigger houses, better wardrobes, the latest gadgets. Americans want them all. Perhaps the best example of this is the automobile. Statistics show that most cars are replaced every 3-5 years, far sooner than necessary. I personally fall into this statistic myself thanks to a growing family and changing needs.
We acquired my current vehicle, a used minivan, shortly before my son was born last year. Even with 80,000 miles under its belt, we knew it would last our family for years to come. But recently, the battery died and I was left stranded while my husband traveled. Twice. During those moments of panic, a ridiculous thought entered my mind.
Trade it in.
Part of me, the old, frivolous me, thought about the prospect of a shiny new van versus the hassle of car repairs. I mentally slapped myself back to reality and instead had the battery replaced. One hundred dollars later, my trusty (paid in full) van is running just fine.
With commercials, advertisements and dealerships encouraging that "easy" trade-in all around us, discontentment with what we drive is an easy trap to fall into.
Scripture reminds us that "godliness with contentment is great gain". (1 Timothy 6:6). This is not always an easy concept to embrace in our culture. Believers must learn to filter out the messages we are bombarded with on a daily basis.
Hebrews 13:5 puts it succinctly: Let your conduct be without covetousness; be content with such things as you have. For He Himself has said, "I will never leave you nor forsake you."
Join me as we further explore this topic here on the Faith & Finance series.