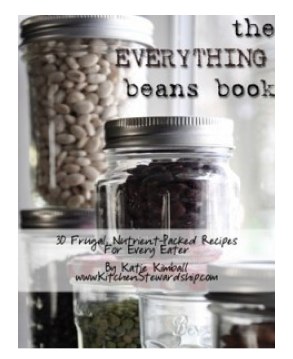 If you have been around the frugal block a time or two, you have heard the old saying about a "beans and rice" lifestyle. This is not just a tongue-in-cheek expression; cooking with and eating beans regularly is one of the cornerstones of a frugal kitchen. Packed full of fiber and protein, beans are a perfect addition to a meatless meal. They even sneak into desserts quite nicely.
But do you really know how to cook with beans? Sure, it's easy to pop open a can, but dried beans pack the real frugal punch. I often add beans to our meals, but must admit that dried beans seem intimidating. Storing? Soaking? Pressure cooking? Where does one begin?
Thankfully, the blogosphere, as it often does, came to my rescue for this common kitchen dilemma. Katie Kimball over at Kitchen Stewardship passionately writes about eating real, whole food and working through nutrition, finances and being environmentally friendly. She recently released a 95-page ebook that contains everything you need to know about beans and legumes.
Including:
Why are they healthy?
How do I cook with dry beans?
How do I cook and store in bulk?
What about picky eaters (the bean haters of the world)?
How do I avoid gas?
How do I get past the texture?
And of course, 30 recipes from appetizer to dessert, all spotlighting the most frugal and nourishing food I know: beans.
Katie sent me a review copy of The Everything Beans Book to experience myself. It does not disappoint! I own quite a collection of ebooks, but rarely do I print one out. I printed the. whole. thing. (Thank goodness for my laser printer!) Yes, 95 pages of bean goodness now sit in a 3-ring binder in my kitchen, to reference again and again.
The book includes thoughtful details such as FAQ's about each recipe, substitutions, kid-friendly ratings, and endless frugal tips. If used online, there are helpful, relevant links for further reading. Most impressive? All 30 recipes have been thoroughly tested by not only Katie's family, but by a team of blog readers who provided valuable feedback.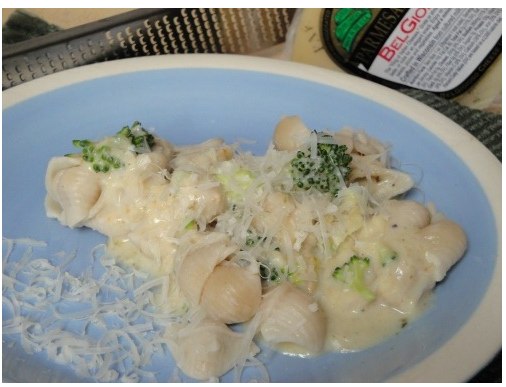 Here is a sample of one recipe from the book I am excited to try out:
Pasta with White (Bean) Sauce

½ c. chopped onion
1 4-oz. can diced green chili peppers, drained, or 1 chopped jalapeno or
Anaheim pepper
2 Tbs. butter
2 cloves garlic, minced
2 Tbs. whole wheat flour or arrowroot starch
1/8-1/4 tsp. black pepper
1 ½ c. whole milk
1 ½ c. shredded cheese (any kind works, but Swiss or Monterey Jack is great)
1 15-oz. can white beans, drained and rinsed, OR 2 c. cooked dry beans
salt to taste, likely about a ½ tsp.
½ lb. Linguine or favorite pasta, cooked according to package directions

Method

In a medium-sized, heavy bottomed pot, cook onion and peppers (if using fresh)
in melted butter until tender, adding garlic at the last minute. Stir in flour and
pepper and cook two minutes. Add the milk all at once. Cook and stir over
medium heat until bubbly and thickened, taking care not to scorch the bottom.
Cook one more minute, then add cheese and stir to melt. Add the beans and
canned chiles (if using canned) and stir to heat through. Feel free to add extra
milk at any point if the sauce is too thick for your tastes. Serve over linguine or
your favorite pasta. You might include steamed veggies right in the sauce for an
all-in-one meal.

For the bean haters of the world: If you use an immersion blender and whiz the
sauce, the beans (and their taste) disappear. You might want to add a bit of
extra milk to thin it out, up to 1/4-1/2 cup.

Serves 4.
Does that sound delicious or what? Many of the recipes are fully adaptable for those with food restrictions, such as gluten or dairy free. None of them seem overly complicated – just good, family friendly fixin's.
The Everything Beans Book is available to purchase as an instant download for just $9.95. Now through March 25th, you can save 20% off when you use the code KFM20 at checkout, bringing the price to just $7.95.
I also have five copies of the The Everything Beans Book to give away! Should you decide to purchase one and then end up winning, not to worry, you will receive a full refund.
Enter to Win:
1 of (5) digital copies of The Everything Beans Book, a 95-page instant download
Leave a comment below (required entry): What is your favorite bean to cook and eat?
If you are reading via email or in a reader, please click through to the post to enter.
For up to (2) bonus entries:
Subscribe via RSS or email for free daily updates. If you're already a subscriber (thank you!) simply leave a comment.
"Like" Kitchen Stewardship and KingdomFirstMom on Facebook and leave a comment letting me know you have done so.
This giveaway will end on Thursday, March 24th at 9 p.m. EST. The winners will be drawn randomly, and notified via email.