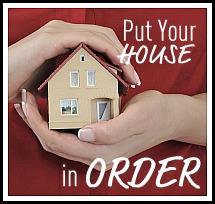 With Spring in full swing and May just around the corner, those New Year's goals and resolutions are likely long forgotten. Back in January, Connie spearheaded a group blogging series to inspire readers to "Put Your House in Order". Last week concluded that series, and we hope it encouraged you to continue growing in the areas of faith, finances, home, family and kitchen all year long.
My topic was the area of finance, and I enjoyed sharing my perspective. Here are the topics I tackled if you missed them:
You can also check out the other participating bloggers who shared in their areas of expertise. Women Living Well (faith), Good Cheap Eats (food), The Casa Bella Project and My Blessed Life (decorating), and Smockity Frocks (children).
To celebrate the end of the series, the five of us are offering some fun giveaways you will not want to miss. Getting your finances in order is no small task and resources to help you along the way are a must.
I am offering the choice of two financial literacy books by Larry Burkett to one lucky winner! Larry Burkett is the founder of Crown Financial Ministries, and his solid Biblical approach to money left a lasting legacy. His books include such titles as Debt Free Living, How to Manage Your Money and The World's Easiest Guide to Finances.
Enter to Win:
(2) Financial Literacy Books of your choice by Larry Burkett
If you are reading via email or in a reader, please click through to the post to enter.
For up to (2) bonus entries:
Subscribe via RSS or email for free daily updates. If you're already a subscriber (thank you!) simply leave a comment.
"Like" KingdomFirstMom on Facebook and leave a comment letting me know you have done so.
This giveaway will end on Wednesday, April 27th at 9 p.m. EST. The winner will be drawn randomly, and notified via email.
Disclosure: This post is not sponsored or affiliated in any way with Crown Financial. I will personally purchase the books directly from Amazon to ship to the winner.
MORE GIVEAWAYS! Be sure to visit my fellow bloggers in the series: