The Eat Well, Spend Less series is continuing this month with a discussion on food storage. If you are shopping strategically for food, then storing it well naturally comes next. Have I mentioned that organization is NOT one of my strengths?  Ahem.
My fellow Eat Well, Spend Less bloggers can tell you all about innovative and resourceful ways to store food this week. So I am telling you how NOT to store it. Just keeping it real, m'kay?
Growing up, I never had a pantry. Food was haphazardly stashed in our tiny cupboards just so it would fit. Years of apartment living were also pantry-less. Now I have a glorious pantry, large enough to stand in. I am thankful… but a little lost.
Bigger is not always better.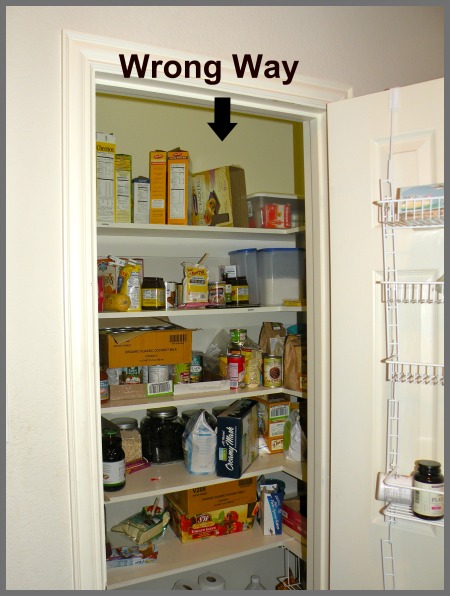 Here are ten ways to NOT organize your pantry, which I have perfected in recent years:
1. Don't bother sorting canned goods, just throw them all on the same shelf and call it good.
2. Cereal is best on the highest shelf, which tempts the kids to grab a stool and climb up to the top of the pantry, nearly falling and breaking their necks while grabbing a snack.
3. After a trip to Costco, just shove the bulk purchases where ever they fit.
4. Store various boxes and appliances on the floor, where you will likely forget about them.
5. Keep your snack shelf within easy reach, so the kids can also grab a handful of chips at will, leaving the bag open so they go stale.
6. When said snack boxes are empty, leave them on the shelf for a few weeks days to take up extra room.
7. Don't worry about taking inventory, because buying duplicates of things you already have on hand is always fun.
8. Leave your Amazon.com subscribe and save food items in boxes on the shelf, just in case you need more boxes.
9. Shove hide clutter in the pantry before guests arrive, and forget to take it out later.
10. The pantry makes an excellent hiding place for various toys, thanks to curious toddlers.
By following these strategies for while, my pantry has become a black hole. Menu planning is not happening like it should, and frugal fails are inevitable. I know what needs to happen. So… with my readers holding me accountable and the need for a change, I will be revealing my extreme pantry makeover tomorrow when I find time soon.
It will not look like this for long: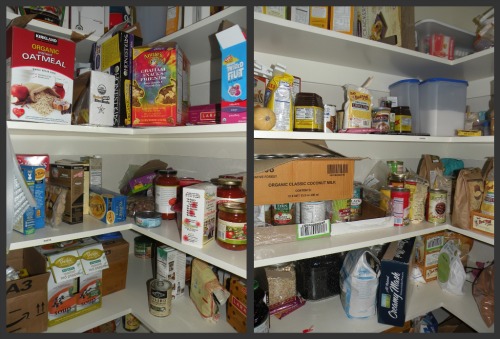 I may even break out my label maker!
Let's hear your pantry confessions. How are you NOT organizing your food?