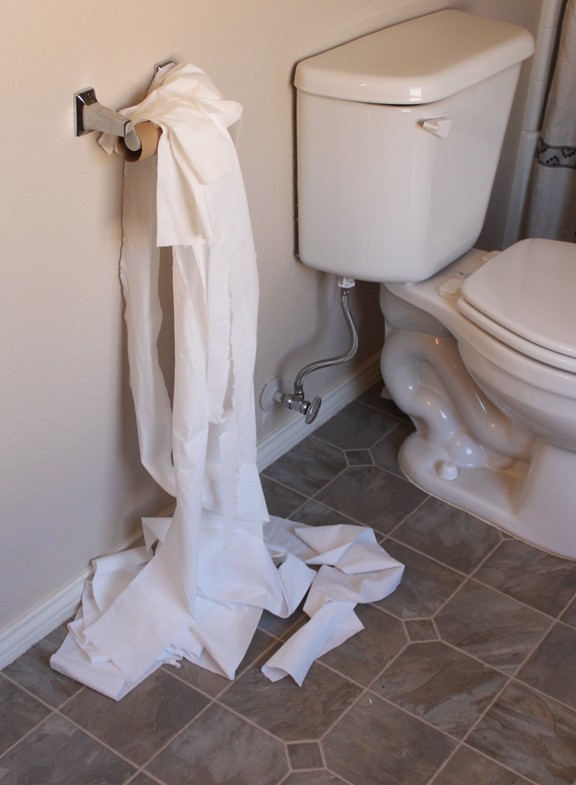 The following is from contributing writer Sarah of Frugal Fun for Boys
One important aspect of living a frugal lifestyle is being good stewards of what we have.  If we can take care of something, we don't have to replace it as often, which saves money!
However, with three young boys and a puppy living at my house, scenes like the one in the photo above are an almost everyday occurrence.  No, it's not always the toilet paper. Sometimes it is the puppy chewing up my husband's black dress pants ($30 to replace because we couldn't wait for a sale).  Or maybe it is the toddler scribbling on the pantry door or unrolling an entire roll of aluminum foil.  Or it's a damaged library book that we now have to pay for.
No matter how careful we are, things are going to get broken and be wasted.  It is just a part of life!
What should be our response when this happens?
Remember that Everything Belongs to God.
Nothing is our own.  It is all His, and we are the stewards.  Psalm 24:1 "The earth is the LORD's and all it contains, the world, and those who dwell in it." Recalling this to mind is huge, and can make the difference between an angry response and a godly response.
How does God want me to respond?  According to Ephesians 4:29.  "Let no unwholesome word proceed from your mouth, but only such a word as is good for edification according to the need of the moment, so that it will give grace to those who hear."
Things get wasted and broken.  It happens.  This is not a sin (unless it is intentional on our part), but our response to those who did the wasting certainly can be!  Which is more important – keeping the carpet free from stains, or cultivating a good relationship with our children?
Salvage and Reuse Where Possible.
We used all of the toilet paper in the picture above!  It really wasn't a big deal to use it out of a "pile" instead of a roll.  Another day, I scraped the top layer off the peanut butter after I caught my 2 year old spitting into it (what was he thinking??) and we used the rest of the jar anyway.  We all lived to tell the tale!
Implement Consequences for the "Waster" Where Appropriate.
Kids can help clean up something they have spilled or help with repairs. My oldest son recently broke a large 3-opening picture frame while throwing a ball in the house.  He wasn't doing anything in anger, and he wasn't trying to break the frame.  It was simply a case of poor judgment.  However, my husband and I had him use some of his own money to pay for part of the cost of replacing the frame.  We explained to him that God wants him to take responsibility for his actions, and that part of being responsible is making things right when you break something.
We as adults would do the same thing for others if we broke something.  "Not meaning to" does not excuse one from making things right!  If carried out without anger (see point 1), appropriate consequences can really help kids be better stewards of  the things they use.
What things tend to get wasted at your house?  How do you handle it with grace?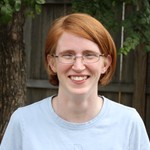 About Sarah Dees
Sarah is a Christian mom of three sons who shares inexpensive ways to keep boys busy at Frugal Fun for Boys. She features activities, homeschooling tips, and thoughts on teaching boys God's Word. You can connect with her on Twitter and Facebook.
Read more by Sarah -> | Blog