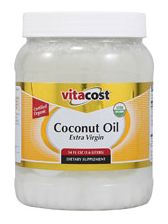 If you still have your free $10 credit from Vitacost, you can snag the 54 oz. jar of Organic Extra Virgin Coconut Oil for only $15.08, shipped. Plus, if you shop through Ebates, you can get 8% cash back on your purchase!
(Psst… if you haven't gotten your free $10 credit, it is still available!!!)
Here is how you can get this deal:
Sign up for a free account with Ebates, or login. On Ebates, search for "Vitacost," and click the orange "Shop Now" button to shop through Ebates and receive 8% cash back.

On the Vitacost website, search for "coconut oil."

At checkout, apply your $10 credit. Shipping is $4.99, making your total cost $15.08 ($0.28 per ounce).

Within 30 days, your Ebates account will be credited with 8% cash back.
I love coconut oil for cooking, baking, making homemade deodorant, and more!
Ebates is offering 8% cash back to Vitacost.com today, February 16th only!