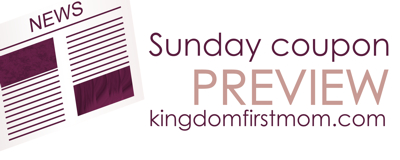 Happy Saturday! There will be 3 inserts this weekend: 1 SmartSource, 1 Red Plum, and 1 Pepsi-Co Moments.
Keep in mind that coupons always vary slightly by region. All new coupons have been added to the Coupon Database.
If you are in need of more coupons this week, check out my coupon resources page.
Here are the best high value coupons I see:
SS
$1.50/1 Air Wick Freshmatic Compact Refill
$2/1 Air Wick Freshmatic Ultra or Compact Starter Kit
$0.50/1 Carefree Product
$1/1 Gain Detergent, Gain Fabric Softener or Cheer Product
$2/1 Hill's Science Diet Ideal Balance Pet Food
$1/1 Johnsonville Chicken Sausage
$3/1 Lysol No-Touch Kitchen System Starter Kit
$1/1 Playtex Gentle Glide Tampons
$2/1 Schick Quattro For Women Disposable Razor Pack
$3/1 Schiff Move Free
$2/1 Stayfree Product
$3/1 Zevia Product
RP
$0.50/1 Era Product
$2/1 Gillette Mach3 Disposable, Sensor3 Disposable, CustomPlus 3 Disposable, Venus Disposable, Daisy Disposable or Daisy3 Disposable
$0.55/1 Gillette Satin Care Shave Prep
$2/1 L'Oreal EverCreme, EverSleek, EverPure, EverStrong Shampoo or Conditioner
$1/1 L'Oreal Paris Cleanser
$2/1 L'Oreal Paris Face Cosmetic Product
$5/1 Swiffer WetJet Starter Kit
$3/1 Ultra Food For Dogs
Pepsi-Co Moments
$0.75/2 Ball Park Franks
$1/2 Doritos Tortilla Chips
$1/2 Lay's Kettle Cooked Chips
$3/1 Nerf N-Strike Maverick Rev-6 Blaster or N Sports Weather Blitz Football
$1/1 O.N.E. Coconut Water Original Flavor
$2/2 Pepsi Product
$1/2 Ruffles Potato Chips or Dip
$0.55/1 Sabra Hummus or other Refrigerated Sabra dip
$2/2 Starbucks Frappuccino Chilled Coffee Drink or Doubleshot Espresso Drink
For the full list of coupons in tomorrow's paper, check out Sunday Coupon Preview.
In other coupon news:
For a preview of Walgreens deals next week, stop by Couponing 101. For the scoop on CVS, visit Deal Seeking Mom. To see what is going on with Rite Aid, see Coupons On Caffeine.
Join me tomorrow for our weekly $5.00 Drugstore Challenges!