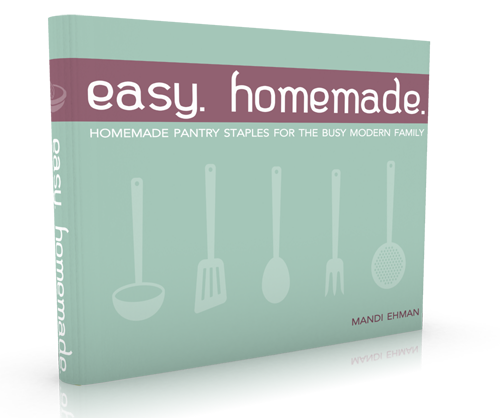 My friend Mandi has just released (another!) eBook! This one is called Easy. Homemade.: Homemade Pantry Staples for the Busy Modern Family, and is jam-packed with great recipes for pantry staples that are easy to make and delicious to boot. Whether you are a gourmet chef or a novice cook, this eBook is for you.
About Easy. Homemade.:
Easy. Homemade. features recipes for more than 60 homemade kitchen staples as well as kitchen tips, information about choosing various ingredients and more.

As a self-proclaimed kitchen dunce, Mandi Ehman is far from an accomplished chef, but she's found that making things from scratch — even the things we typically buy without even considering that we could make them at home — is actually pretty easy. She's passionate about empowering other busy families to do the same with tried-and-true recipes that can be made with basic ingredients and don't require a lot of time.
Right now, Mandi is offering Easy. Homemade. for only $0.99! This is a great deal, because after the launch week is over (8/21), the book will go up to $3.99. So, now is the time to buy!
You can purchase the book download through this link. Along with your purchase, you will receive a set of printable recipe cards, access to all of the recipes from the book on PlantoEat.com, and the Nook and Kindle files.
Or, you can snag the directly book for your Kindle through Amazon or your Nook on Barnes & Noble.