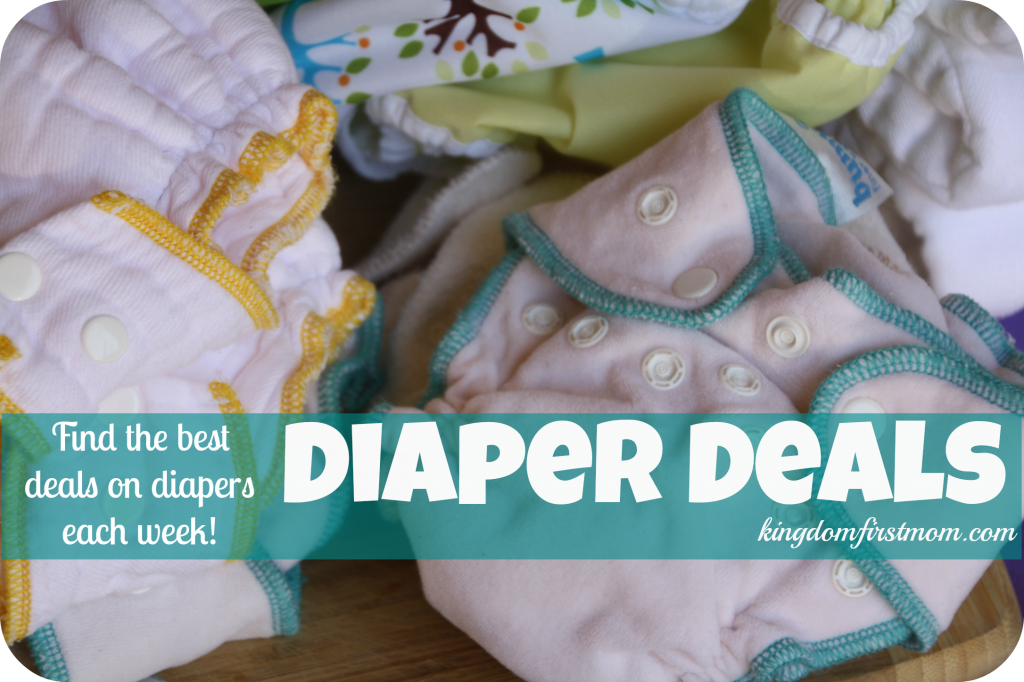 If you are looking for the best deals on diapers this week, then look no further. A huge thanks to Shellie at Saving with Shellie for rounding up the best deals on disposable diapers. For those of you who cloth, scroll on down to the bottom for the best deals on fluff.
CVS
Huggies Jumbo Packs Diapers, Pull-Ups or GoodNites – $9.49
– Use $2/1 Huggies Pull-Ups Coupon
= $7.49
Pampers Super Packs Diapers – $24.99
– Use $1.50/1 Pampers Diapers Coupon
= $22.49
Rite-Aid
Huggies Snug & Dry or Little Movers Super Packs – $19.99
Target
Pampers Economy Packs – $37.99
– Use $1.50/1 Pampers Diapers Coupon
= $36.49
Walgreens
Walgreens Jumbo Pack Diapers, Sleep Pants or Training Pants – $5
Amazon – In order to receive the Amazon Mom discount you will either need to have an Amazon Prime subscription or be in the initial 90-day trial period of Amazon Mom.
Huggies Little Movers (160ct – Size 4) – $46.33
– Save 5% with Subscribe & Save
– Save 15% with Amazon Mom
– Clip $2 off Huggies Amazon Coupon
= $35.06 ($0.22 per diaper)

Huggies Snug & Dry (74ct – Size 4) – $22.99
– Save 5% with Subscribe & Save
– Save 15% with Amazon Mom
– Clip $2 off Huggies Amazon Coupon
= $16.39 ($0.23 per diaper)

Pampers Cruisers (160ct – Size 4) – $46.99
– Save 5% with Subscribe & Save
– Save 15% with Amazon Mom
– Click $1 Pampers Coupon
= $36.59 ($0.23 per diaper)

Pampers Baby Dry (192ct – Size 4) – $47.19
– Save 5% with Subscribe & Save
– Save 15% with Amazon Mom
– Click $1 Pampers Coupon
= $36.75 ($0.20 per diaper)

Luvs (204ct – Size 3) – $32.99
– Save 5% with Subscribe & Save
– Save 15% with Amazon Mom
– Click $1 Luvs Coupon
= $25.39 ($0.13 per diaper)

Seventh Generation (155ct – Size 3) – $44.82
– Save 5% with Subscribe & Save
– Save 15% with Amazon Mom
– Click 10% Off Seventh Generation Coupon
= $32.27 ($0.21 per diaper)

The Honest Company
Family Essentials Bundle – $35.95
Honest Diaper Bundle – $75.95
{CLOTH}
Dearest Diapers
Free Insert on Orders over $39 with code INSERT39
Free Diaper Cover on Orders over $79 with code COVER79
Free Diaper & surprise Accessory ($19.95+ value) on Orders over $119 with code GIFT119
itti bitti tutto OS Diaper – $13.96 (reg. $19.95)
Ones & Twos One Size All-in-One Diaper – $11.86 (reg. $16.95)
Smart Snugs SimpleSnug Pocket Diaper – $11.05 (reg. $13)
Nicki's Diapers
Imagine Newborn Bamboo All-in-One – $8.95 (reg. $11.95)
Bumkins One Size Stuff-It Diaper – $9.95 (discontinued, reg.$14.95)
Free Shipping
Imagine One Size Pocket Diaper – $9.95 (reg. $13.95)
Free Shipping
Happy Heinys One Size Pocket Diaper – $14.21 (reg. $18.95)
Best Bottom Diapers – $13.50 (retired colors 20% off, reg. $16.95)
Rumparooz One Size Diaper Aplix – $17.96 (reg. $23.95)
Free Shipping
BumGenius Elemental (Organic) One Size AIO Diaper – Buy 5 for $95! (reg. $124.75)
Amazon
Thirsties Duo Wrap Snap, Meadow, Size One (6-18 lbs) – $12.29
Free Super Saving Shipping
Bumkins Stuff-It Cloth Diaper, Yellow Fish – $14.95
Free Super Saving Shipping
FuzziBunz Perfect Size Cloth Diaper, Choco Truffle, Medium 15-30 lbs – $15.95
Free Super Saving Shipping
Best Bottom Cloth Diapers – Snap – Green Giraffe – $16.95
Free Super Saving Shipping
GroVia Hybrid Snap Shell Diaper, Cloud, One Size – $16.95
Free Super Saving Shipping
Rumparooz Reusable Cloth Pocket Diaper, Crimson, Aplix – $23.50
Free Super Saving Shipping