Ah, spring. I love the crisp, sunny mornings full of promise that spring brings. It is a wonderful time of renewal and rebirth. It also means planting gardens and the bounty of farmer's markets just around the corner.
Because I have been taking the Whole30 Challenge, my veggie intake has increased quite a bit this month. I am super-excited about the new in-season fruits and vegetables that the beginning of spring introduces.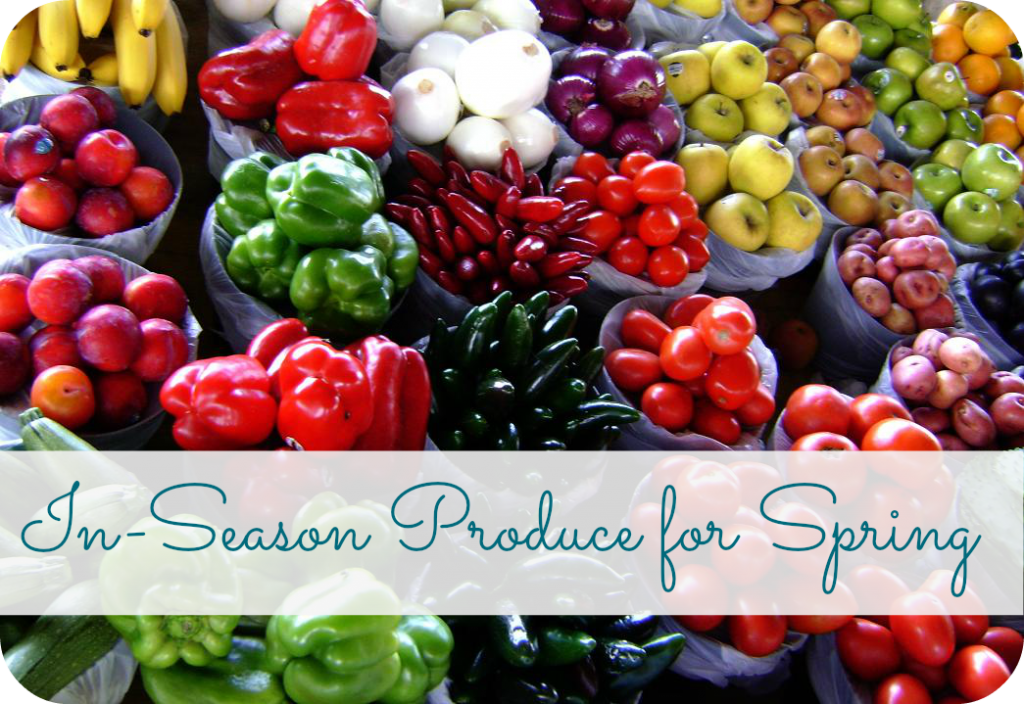 This is the produce you can expect to see sales on in your local markets and grocery stores this spring:
Personally, I am ready for the later-spring fruits and veggies like okra, strawberries, peaches, and watermelon!
Buying produce when it is in-season will give you the best bang for your buck. Because, let's face it; eating well isn't always easy on the pocketbook. And while I think that is a shame, there are definitely ways to make purchasing fresh fruits and veggies a big part of your shopping routine. By paying attention to what produce is in-season, allows you to stock-up at the lowest price and save big. But what do you do with it after you have stocked up? You have a few options:
Canning
Canning is something I enjoy, but do not get to do it as often as I like. I am certainly not a pro, but is something I find very fulfilling. Canning isn't as hard as it sounds and is a very effective way to save some of your in-season fruits and veggies to eat when they aren't in-season. The Canning 101 Series from Simple Bites is a great way to get you started canning. (See also: 9 Good Reasons to Can Your Own Food).
Freezing
Freezing excess produce is a quick and easy way to save it for later. I like to "flash freeze" items by chopping them and then lining them up on a baking sheet. Place the baking sheet in the freezer for a few hours, and then place the frozen morsels in a Ziploc bag.
Adding Produce to Old Favorites
I know your kiddos probably cringe when you place vegetables in front of them; mine certainly do! But when I chop a few "extras" to add to our favorite meatloaf, they are none-the-wiser. You can also make a delicious soup from pureed veggies and cheese.
Another favorite in our family is fruit smoothies or through juicing; both are great ways to use up extra fruit and veggies.
Find New Ways to Eat Vegetables
Baking - Baking is a fun way to try veggies. Homemade kale chips and squash chips are great ways to serve a healthy snack, and baked sweet potato fries make an easy, kid-friendly side. A great alternative to pasta is spaghetti squash; simply bake it and top with your favorite sauce for a yummy and healthy meal.
Grilling – The best way to grill vegetables is to marinate or brush with olive oil before placing them on the grill. Grilling smaller or sliced veggies works best if you wrap them in heavy-duty foil or stick them on kabobs. You can sprinkle grilled vegetables with fresh herbs or salt for added flavor.
Roasting - Most vegetables roast well chopped, and then placed in the oven for 20-25 minutes at 400°. I like to toss with olive oil, and then sprinkle with salt, but you can add pepper or any other spices you wish. Be sure to stir the veggies occasionally to ensure even browning.
Sautéing - Sautéed vegetables make a quick side dish to any meal, even breakfast! I love adding sautéed spinach, peppers, and/or onions to scrambled eggs. Expeller-pressed coconut oil is my favorite oil for sautéing vegetables. I have recently fallen in love with sweet potato hashbrowns; I could eat them every single day!
What springtime fruits and veggies are you looking forward to eating? What are your favorite ways to stock and save in-season veggies for later?
Photo by: Patrick Feller on Flickr

Get more great winter-to-spring transition tips from: