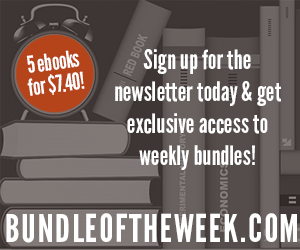 Thanks to BundleoftheWeek.com, a new bundle of eBooks will be released every week that features 5 high-quality, related ebooks from well-known authors at the awesome price of just $7.40.
This week, we've got an amazing bundle of ebooks from Katie at Kitchen Stewardship! From soaking grains and using beans to stretch your budget to dozens of snack recipes for busy families on the go and tasty desserts that won't leave you feeling deprived, Katie's ebooks offer recipes and kitchen tips for every meal of the day.
Click the banner above or this link to read more or purchase this bundle:
Healthy Snacks to Go
The Everything Beans Books
Smart Sweets
Is Your Flour Wet?
The Family Camping Handbook
In addition, you will receive an exclusive coupon code to purchase Katie's most recent release, Better Than a Box, for 50% off as well.
P.S. Even if you've already got one or two of these ebooks in your collection, this collection offers a great value for the remaining books. And you're welcome to pass on your duplicates to a friend or family member to encourage them in their real food journey as well!