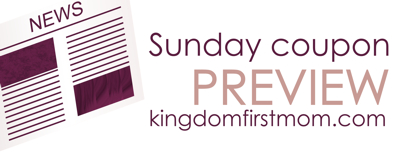 Happy June! You can expect 1 SmartSource, 1 Red Plum, and 1 Procter & Gamble in Sunday's paper.
Keep in mind that coupons always vary slightly by region. All new coupons have been added to the Coupon Database.

If you are in need of more coupons this week, check out my coupon resources page.

For the full list of coupons in tomorrow's paper, check out Sunday Coupon Preview.
Here are my favorite coupons:
SmartSource
$1.50/1 Aveeno Active Naturals Men's Product
$2/1 BIC Flex4, Flex3, Comfort 3 Advance, Hybrid Advance 3 or Hybrid Advance 4
$1/1 Colgate 360 Manual Toothbrush
$2/1 Colgate Mouthwash
$1/1 Colgate Toothpaste
$0.35/1 Land O Lakes Eggs Package
$1/2 Nexcare Bandages
$1/2 Ritz Crackerfuls Filled Crackers
$0.35/1 SoftSoap Liquid Hand Soap Antibacterial
$1/2 V8 Splash
Red Plum
$1/1 9Lives Dry Cat Food
$0.75/1 All Laundry Detergent
$0.75/2 Ball Park Product
$3/1 Centrum ProNutrients Omega-3
$0.45/1 Daisy Brand Cottage Cheese
$1/1 Domino Organic Light or Amber Blue Agave Nectar
$1/2 M&M's Brand Chocolate Candies
$1/1 Organic Valley Regular or Flavored Half and Half
$1/1 Surf Laundry Detergent
$1/1 Wisk Laundry Detergent
Procter & Gamble
$0.50/1 Aussie Product
$0.25/1 Charmin Product
$1/1 CoverGirl Product
$1/1 Gillette Body Wash or Antiperspirant/Deodorant
$0.75/1 Ivory Body Wash or 2-in-1 Item
$1/1 Old Spice Product
$7/1 Oral-B Rechargeable Toothbrush or Replacement Heads
$1/1 Scope Mouthwash
$0.40/1 Tide Detergent, Tide Boost or Downy Item
$1/1 Vidal Sassoon Styling Aid Product
For a preview of Walgreens deals next week, stop by Couponing 101. For the scoop on CVS, visit Deal Seeking Mom. To see what is going on with Rite Aid, see Coupons On Caffeine.
And don't forget about our weekly $5.00 Drugstore Challenges on Saturday night!