Wow. Every month I tell you how excited I am to share this month's Young Living freebies and promotions, and every month, it's the truth! YL is always sharing their amazing products and giving fantastic promos, and truly, this month is no different. The oils featured for January are the use-it-for-everything Lavender, and aromatic Idaho Balsam Fir.
You know how much I love Lavender, and as it is one of the most popular oils ever, it is offered in both the Premium Starter Kit and the Everyday Oils Kit. Whether it is for sleep issues, burns, calming, or personal care, Lavender has you covered. This is one oil you never want to be without.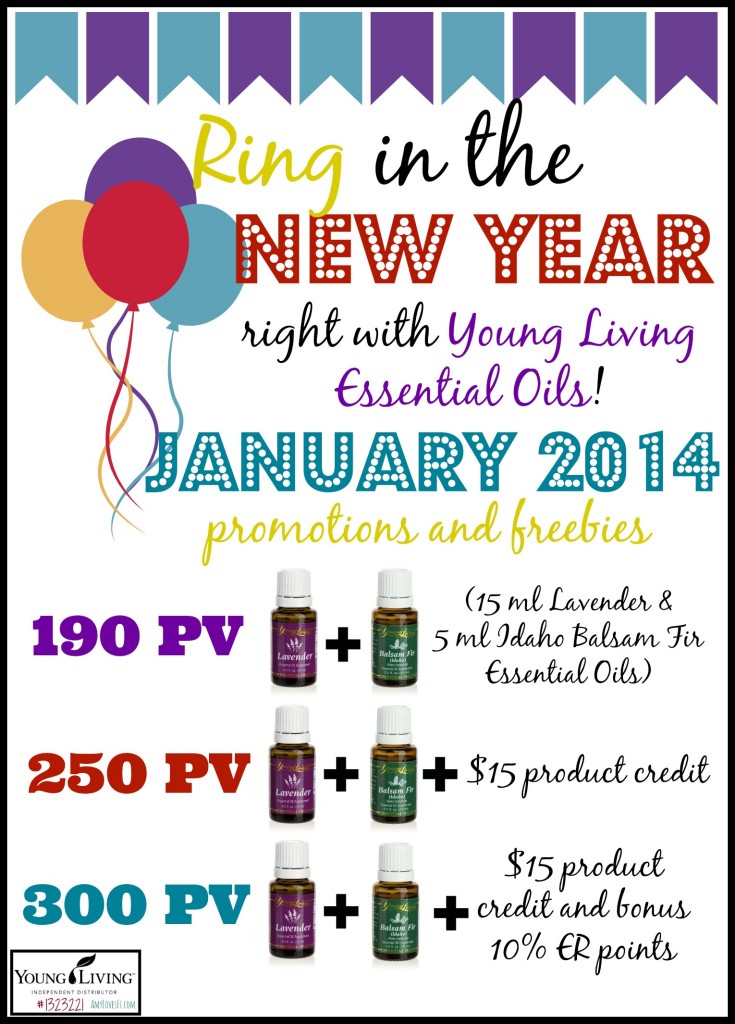 Idaho Balsam Fir is a new oil to me, and I can't wait for my order to come in so I can try it! The plant constituents in balsam fir have historically been used to support respiratory function and ease muscular and joint discomfort.* To use balsam fir for respiratory support, simply inhale straight from the bottle or include a few drops in a diffuser—the fresh pine scent is very grounding and relaxing. This time of year, our family can't get enough respiratory help, so I'm thrilled to add this oil to my arsenal. Idaho Balsam Fir is also found in the Deep Relief Roll-On, as it is wonderful for tired and sore muscles.*
January 2014 Promo: 190 PV
Order 190 PV and receive the 15-ml Lavender and 5-ml Idaho Balsam Fir essential oils — a retail value of $63.49! This promotion is available for all Young Living distributors and retail customers.
Lavender: Lavender is YL's most popular and versatile essential oil. Loved for centuries for its soothing, floral aroma and skin-nourishing qualities, Lavender can be diffused to encourage tranquility and restful sleep, added to bathwater for relaxation, or worn as a fragrance to instill tranquility.*
Idaho Balsam Fir: Distilled from the needles of balsam fir trees grown on our Idaho farms, Idaho Balsam Fir's aroma is uplifting and rejuvenating for body and mind. Dilute and use in post-workout massage, or diffuse to invigorate the mind and senses.
January 2014 Promo: 250 PV
Order 250 PV and receive the receive the 15-ml Lavender and 5-ml Idaho Balsam Fir essential oils, plus the $15 product credit — a retail value of $78.49!
$15 Product Credit: Use this $15 just like cash toward any order of any Young Living product! Anticipate that this special credit will appear on your account in mid-February, which you may then apply to your order for a $15 discount.
January 2014 Promo: 300 PV
Order 300 PV and receive free 15-ml Lavender and 5-ml Idaho Balsam Fir essential oils, plus a $15 product credit and an additional 10 percent back on your order in Essential Rewards points — a retail value of $108.49.
10 Percent Back: For every order over 300 PV in January, you will receive 10 percent of your order back in Essential Rewards points! This offer applies to both Essential Rewards and standard orders and is on top of any points you may earn from your regular monthly Essential Rewards order, up to 50 points per order. To receive these points, which can be used toward receiving free products, you must be enrolled in the Essential Rewards program. It is YL's way of thanking you for your loyalty. These points will be available to use on or before February 15.
Limit of one free 15-ml Lavender essential oil and one free 5-ml Idaho Balsam Fir essential oil per qualifying 190 PV order, plus one free $15 product credit per qualifying 250 PV order, and/or one free 10 percent back in ER points per 300 PV order. Limit of five qualifying orders per month. PV minimum must be reached in a single order. Partial orders placed throughout the qualifying month cannot be combined in order to receive the offer. Single orders over stated PV do not earn duplicate rewards. Member is responsible for shipping costs associated with ordered and free product.
For more information on joining Young Living as a distributor, you can see my Young Living Distributor page. If you are curious about essential oils, check out my series, 31 Days of Young Living Essential Oils.
*These statements have not been evaluated by the Food and Drug Administration. This product is not intended to diagnose, treat, or cure any disease. I'm just a mom sharing my experience! As always, do what you feel is best for your family. Image sources: youngliving.org