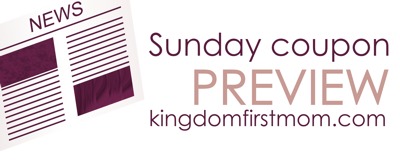 Get your scissors ready, because there will be SIX inserts in this Sunday's paper! You can expect 3 SmartSource, 2 Red Plum, and 1 Target Procter & Gamble.
Keep in mind that coupons always vary slightly by region. All new coupons have been added to the Coupon Database.

If you are in need of more coupons this week, check out my coupon resources page.

For the full list of coupons in tomorrow's paper, check out Sunday Coupon Preview.
Here are my favorite coupons:
SmartSource #1
$1/1 Aveeno Product
FREE Band-Aid Decorated Bandages wyb Neosporin + Pain Relief Ointment
$3/1 Bausch+Lomb Ocuvite Product
B1G1 Free Bic Disposable Razor
$1/1 Bic Stationery Product
$1/1 Jennie-O Ground Turkey Package
$2/1 Lubriderm Product
$1/1 Reach Total Care Floss, Gentle Gum Care Floss, Dentotape or Access Flosser
SmartSource #2
$0.50/1 Colgate Manual Toothbrush
$1.50/2 Fresh Express Bags
$2/1 GE LED Lighting Product
$1/1 Nestle Nesquick
$2/2 Pepsi Multipack Plastic Bottles or Mini Cans
$2/1 Similasan Product
$1/1 So Delicious Dairy Free Product
SmartSource #3
$1/2 Barilla Plus, Whole Grain, Veggie, White Fiber or Gluten Free Pasta
$0.75/1 Cascadian Farm Product
$0.50/1 Fiber One Chewy Bars, or 90 Calorie Product
$0.50/2 Nature Valley Granola Bars, Granola Thins, Soft-Baked Oatmeal Squares or Breakfast Biscuits
$5/1 Tena Product
$1/1 Trubiotics Supplement Product
$1/5 Yoplait Greek Yogurt
Red Plum #1
$1/1 Fiora Bath Tissue or Paper Towels
B2G1 Free Gillette Female Disposables
$1/1 Hefty Trash Bags Kitchen or Large Black Trash
$0.50/1 Hellmann's Product
$2/1 L'Oreal Advanced Haircare Treatment
$2/1 Maybelline New York Mascara
$1/2 Muller Yogurt Products
$1/1 Pedigree Dry Dog Food
Red Plum #2
$3/2 All Product
$1/1 Angel Soft Bath Tissue
$1/2 Angel Soft Facial Tissue Item
$1/1 Balance Bar Multipack
$1/2 Balance Bar Singles
$0.75/1 Meow Mix Dry Cat Food
$3/1 Oscillococcinum, Coldcalm, Chestal Product
$1/1 Quilted Northern Ultra Plush
Target/Procter & Gamble
$0.50/1 Bounty Paper Towels
$0.50/1 Charmin Bath Tissue
$1/2 Herbal Essences or Aussie
$1 off Pampers Diapers AND Wipes
$1/1 Tide Boost or Detergent
For a preview of Walgreens deals next week, stop by Couponing 101. For the scoop on CVS, visit Deal Seeking Mom. To see what is going on with Rite Aid, see Coupons On Caffeine.
And don't forget about our weekly $5.00 Drugstore Challenges on Saturday night!