Online shopping speaks to my heart. I don't love crowds of people or parking lots, so snagging deals from the comfort of my home is my kind of shopping! I'm doing my Christmas shopping from the recliner, while hanging with the kiddos. I'm about to shop while I bake pies for our third Thanksgiving! This is the life.

Something else that speaks to my heart is wellness. In addition to many other changes, adding Young Living to our wellness routine has been incredible.
Not only have we replaced all of our cleaners with ONE pennies-per-use, even-works-on-glass, smells-amazing, Thieves Household Cleaner; replaced toxic candles and scented/plug-in warmers with essential oils in a diffuser; but we have had countless experiences with increased immune support, better emotional health, digestive support, less stress, and more.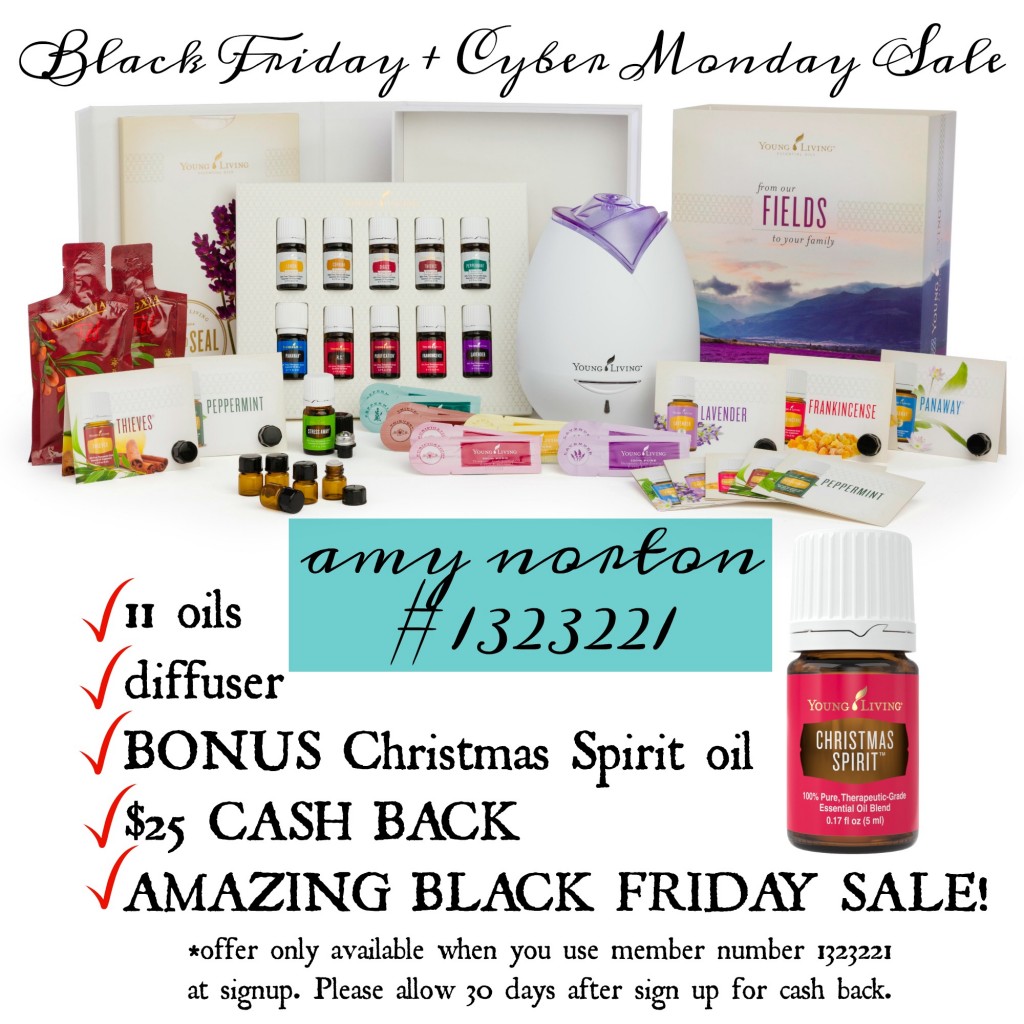 If you've been on the fence about getting started with Young Living, hop off and join the crazy awesome world of oils. Today (11/25) through Monday (11/28), I'm offering an extra bonus deal:
When you get started with a Premium Starter Kit, Young Living will send you a 5 ml Christmas Spirit oil, which smells Ah-MAY-zing in the diffuser this time of year! Wait… who am I kidding? I diffuse it year-round! PLUS $25 cash back* from me!
Yes, you read that right. I'm offering $25 back (options below) to you as my personal bonus for joining me on this oily journey.
What do you get in your Premium Starter Kit? I'm glad you asked! You get 11 incredible oils that you can use for everyday life. You will have tools to help with sleep, stress, skin, digestive support, immune support, muscle tension and more. You also get a diffuser to help you get these oils into the air in your home, an educational product guide, travel-sized bottles you can fill, and product samples. In fact, you'll get well over $300 worth of products for $160.
Ordering your starter kit also makes you a wholesale member, which means you get 24% off the retail price of anything else you want to order in the future. It's kind of like Sam's Club, but you don't have to pay for your membership each year. You simply order $50 worth of products over the course of the year to keep your membership going.
You also have access to two private Facebook groups, one run by my friend Stephanie and me, and one run by our upline diamond leader, Claudia, where you can ask questions and learn from other Young Living members. We also have regular classes you can attend to learn more. And I'm here to answer your questions!
Ready to get started?
1. Click here youngliving.com to begin the enrollment process.
2. Choose the 'Member' option so you can get the 24% discount. You should see my member number (1323221) in the Enroller and Sponsor boxes. This ensures that we're connected so I can support you as you learn about oils and how to use them. Young Living also sends me a small bonus when you enroll through me.
3. Choose your starter kit. I HIGHLY recommend the $160 Premium Starter Kit, as you'll get the most bang for your buck that way.
4. Choose your diffuser. I have both the Home Diffuser and the Dew Drop and love them both. The Home Diffuser would probably be my first choice for someone new to essential oils.
5. You can skip the Essential Rewards Kits, and we'll chat more about that later. Then you can decide if it will work for you or not. You can order without enrolling.
6. Add more products if you wish, or simply begin the checkout process.
7. Fill in all of your information. Keep your username, password, and PIN so you can use them for future orders.
8.Check out and wait for your box. The waiting is the hardest part!
9. BONUS! After you set up your account and place your initial order, send an email (amynortonyl@gmail.com) to me. I will send you some reading materials, a user guide, and a few extra goodies, plus get you added to the private Facebook groups. Your oils should arrive on your doorstep within a few weeks! And you can let me know in the email how you would like your cash back!
So. To recap, you get 12 amazing oils (remember the bonus Christmas Spirit!), a diffuser, online support, access to 24% savings as a wholesale member – because they have other incredible products like toothpaste, soap, and shampoo that you are definitely going to want – and $25 back in the form of your choice: Paypal, Visa Gift Card, or Amazon Gift Card.
Boom. Your immune system (and the rest of your body!) will thank you. And your house will smell amazing when you put Christmas Spirit in the diffuser.
Save