I have a lot of goals for 2009… just like everyone else.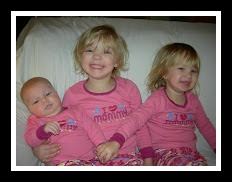 Every year I say, "This year is going to be different." And, while there are some changes (obviously, last January I was pregnant, and this January I am not), what I really want to change hasn't. For example, every year I say, "We are going to get out of debt." That has not happened yet, although, I have made several good steps in that direction. I no longer use credit cards. Our cards carry a balance because we misused our credit early in our marriage… especially after Abby Grace was born and we had to shell out for diapers and formula. Now I am rectifying that. It just takes time. I only use our debit card/cash/check that comes directly out of our checking account. If we don't have the money, it cannot be spent. I already feel so much freedom with that one step!
This year, my financial goal is to be rid of two credit cards, and begin paying more on our Tahoe (which we only purchased b/c we needed a more reliable vehicle having three young kiddos… and we got an amazing deal!). On the other end, we have scaled down: we have Shane's Nissan truck from high school (and he graduated in '93) in the garage next to the Tahoe! We are currently trying to sell the Expedition. I coupon, only shop the sales, and plan our meals around the big sales.
My spiritual/faith goal is to spend at least 10 minutes every day in the Word. Too often, I get caught up in getting the girls or myself ready and taking care of everything else that my time with God gets pushed to the side. I spend practically all day talking to Him, but I need to have quiet time with Him, too. I've noticed the days I have a few minutes of quiet time don't necessarily "go better," but I FEEL better, am more calm, and have more patience.
I have found a passion that I did not know I had. I LOVE crafts! I never felt like I had a talent or the patience for crafts, but Shane, the girls, and I have had a blast doing crafts together. Shane rates the time we spent creating the family wreath as some of the best time we have ever spent together. So, my family goal for the year is to spend more time doing crafts.
My food/cooking goals for the year are to eat from my stockpile so food doesn't go to waste, and make double portions of meals (i.e. crock pot meals, casseroles, and soups) and freeze half.
With all of these goals, I know I should have a wife-y goal for '09, so, here goes! I will show my husband the affection he desires. My husband is very affectionate: he loves to hug, cuddle, and hold (I know, I know… who wouldn't LOVE this?!). I am very affectionate with my girls, but not so much with adults. I really don't know why. So, my gift to my husband this year will be more affection from me and better responses to the affection he gives.
Here is what I am going to (try!) NOT worry about:
Money
Whether or not Abby Grace will make it with homeschooling
That Reese will never outgrow the loud tantrums
All the events Shane likes to plan
Falls Creek
There are my goals! What do yours look like this year?!