Do you have TONS of those plastic grocery bags taking up space in your house?  Most of the time, I take reusable grocery bags to the store for my groceries, but sometimes I forget them and end up with more plastic bags!  Ugh! So, what is the frugal option for making use of these plastic bags?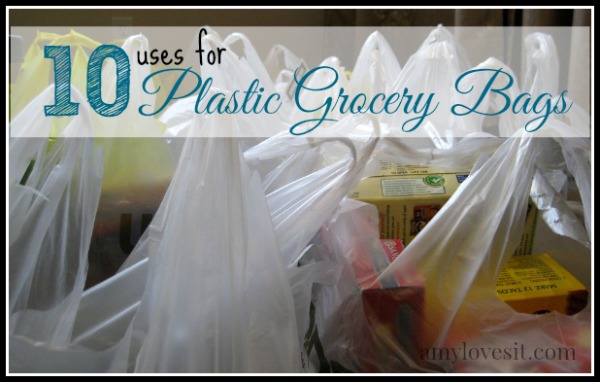 1) Use them as trash can liners. Now, these plastic bags are not heavy-duty, but they are fabulous for using as liners for your bathroom and office trash cans.
2) Pack them in your diaper bag. In case of accidental spills or diaper explosions, you can keep an extra set of clothes in the plastic bag, and if there is an accident, simply swap out the dirty clothes for the clean ones and tie up the bag so there are no leaks. Keep a few for those nasty diapers when you are on the road and there is no other "safe" place to put them.
3) Line your vehicle's trash canwith them.  Or, keep them in the console for quick clean-up after a trip.
4) Tie up dirty diapers before placing them in your diaper pail. Our diaper pail does nothing to hide the smell of stinky diapers, but tossing one in a plastic grocery bag and tying it up before popping it in the pail leaves a much more pleasant odor… or lack thereof.
5) Use them at your garage sale. Next time you have a garage sale, use your plastic grocery bags to place customer's purchases.  If nothing else, use this as a good excuse to have a sale and get rid of some of your clutter.
6) Plastic bags make good packing material…. if the item(s) are not breakable, that is!  Wrap items to be shipped in plastic bags or stuff them in the "empty" spots of the box.
7) Take your lunch to work by tossing your sandwich (or whatever) into a plastic grocery bag.  And, to make it both frugal and green, use the same bag every day.
8) Drain your cooked ground beef with foil and a plastic bag, a'la Balancing Beauty and Bedlam. Awesome trick, eh? You're welcome. 😉
9) Store wet swim suits after hitting the pool.
And the obvious…
10) Recycle them. If the plastic bags are taking up much-needed space in your home, simple recycle them next time you go to the grocery store.  Most grocery stores have a bin as you walk in (or near the front) for recycling plastic bags.
How do you put plastic grocery bags to use?
You can find this post on Oh Amanda's Top 10 Tuesday, 5 Minutes for Mom's Tackle It Tuesday, and Life as Mom's Frugal Friday.