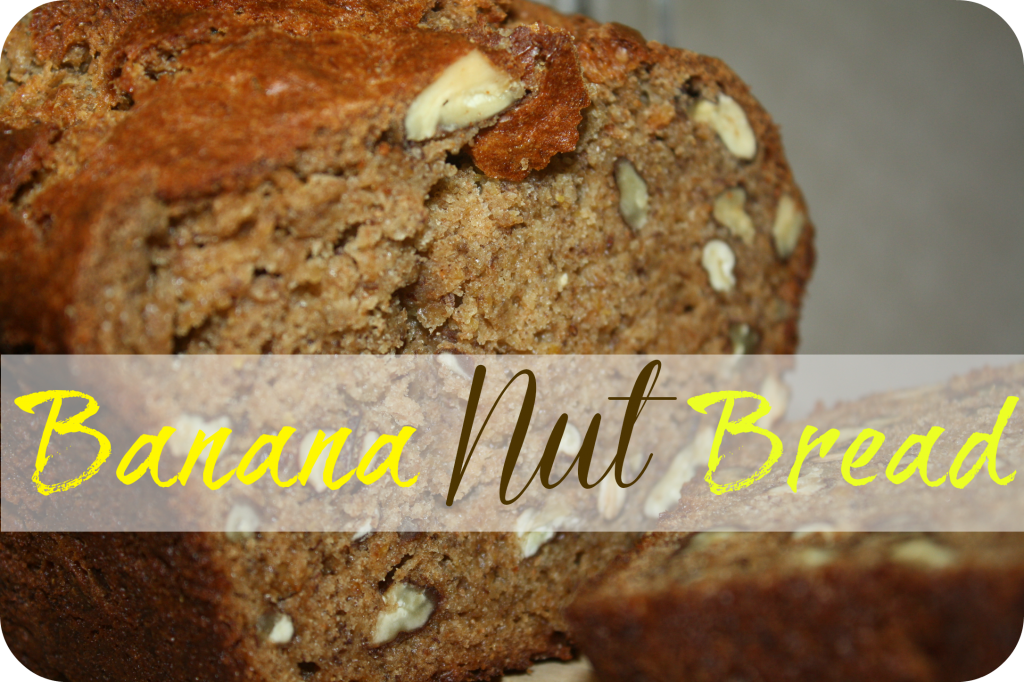 Our family loves Banana Nut Bread. In fact, I just pulled two loaves out of the oven; one for our family and the other for my Dad.
Both of our families are looking for healthier alternatives to our favorites, and it is a must for my Dad, as he recently underwent emergency heart surgery, even though he had no symptoms or underlying health conditions that even alerted us to his problems!
One of our mutual faves is Banana Nut Bread. The tastiest recipe for Banana Bread is the one I found on Money Saving Mom's website. It is really yummy, but I needed to make some healthier substitutions for some of the ingredients.
Here is my take on Money Saving Mom's Banana Bread Recipe:
Banana Nut Bread
2 cups Flour (unbleached all-purpose, whole-wheat, or 1 cup of each)
1 tsp Baking Soda
1/2 tsp Baking Powder
1/2 tsp Salt
1/2 cup Sucanat
1/2 cup raw Honey
1/4 cup Tropical Traditions Virgin Coconut Oil
1/4 cup Homemade Applesauce
2 Eggs, beaten
4 brown Bananas
1/2 tsp Vanilla
3 Tbsp Milk
1/2 – 1 cup Pecans, toasted
Add bananas and wet ingredients to your mixer and let it mix while you whisk together the dry ingredients. Grease your loaf pan with coconut oil.
Slowly add dry ingredients to the wet ones in your mixer, scraping the sides of the bowl as needed. Stir in toasted pecans.
Add mixture to loaf pan, and bake at 350 degrees for 1 hour and 15 minutes, (or until toothpick inserted into the bread comes out clean… 1 hour, 15 minutes is exact for my oven.). I set my timer and turn the pan at 30 minute intervals.
Cool in pan for 10 minutes and then transfer to a wire rack.
About Tropical Traditions Coconut Oil
Tropical Traditions is committed to time-honored traditional practices that have produced healthy coconut oil for hundreds, if not thousands of years. Their enhanced Virgin Coconut Oil is now in the US market under the Tropical Traditions Gold Label brand. It meets their strictest standards to earn this designation. Today when you buy Tropical Traditions Gold Label Virgin Coconut Oil, you are buying the highest quality coconut oil they have to offer. More about Tropical Traditions.
In addition to making the above Banana Nut Bread, I have used the coconut oil to fry pork chops and make pie crust… all with no coconut-y taste. If you are looking for other ways to incorporate coconut into your cooking, check out their Free Coconut Recipe page.
If you ever have any questions or need help with your order, be sure to check out their Customer Service help page.
Plus, through Thursday, April 7th, you can get Buy 1 Get 1 Free 32 oz Coconut Oil! If this is your first online purchase with Tropical Traditions, you can snag a free copy of their Virgin Coconut Oil book. Be sure when you check out, to choose "Referred by a Friend" and enter User ID: 7255567, and the book will be automatically added to your order.
This giveaway is closed. Tropical Traditions has generously offered one of my readers a 32 oz. jar of Gold Label Virgin Coconut Oil.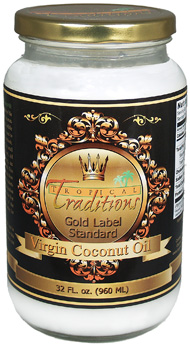 Enter to win:
1. Leave a comment. What healthier food changes are you making?
(3) Bonus Entries:
1. Subscribe to Tropical Traditions Email Newsletter. Be sure to leave a comment letting me know you have done so.
2. Subscribe to Amy Loves It! updates via RSS or Email, and/or "like" Amy Loves It! on Facebook. Then come back and leave a comment stating you have done so. If you are already a subscriber (thank you!), please leave a comment letting me know.
3. Follow Tropical Traditions on Twitter. Make sure you come back and leave a commentletting me know you have done so.
This giveaway will close on Friday (4/8) at 8 pm CST. The winner will be chosen by And The Winner Is… Plugin and notified via email.
Disclosure: I received one (1) 32 oz. jar of Tropical Traditions Gold Label Virgin Coconut Oil to review. Once a winner is chosen, their information will be passed along to our sponsor for prize fulfillment. As always, all thoughts and opinions belong to me. Tropical Traditions provided me with a free sample of this product to review, and I was under no obligation to review it if I so chose. Nor was I under any obligation to write a positive review or sponsor a product giveaway in return for the free product.