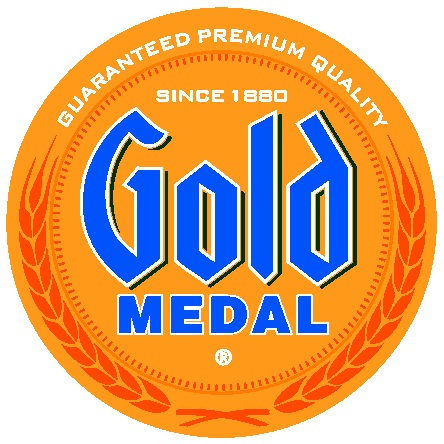 With Americans looking for ways to add more whole grain to their diets, it´s the simple choices that can make a difference, like making the effortless switch to new Gold Medal® White Whole Wheat flour. Available in grocery stores, Gold Medal White Whole Wheat flour can help you bake it great with the goodness of whole grains!
Unlike most whole wheat flours that are made from hard red spring wheat, Gold Medal White Whole Wheat flour is made with hard white spring wheat. So, it is whole grain, but with a similar taste and texture to all-purpose white flour. Perfect for family favorite recipes like breads, pizza dough, cookies, muffins and brownies, Gold Medal White Whole Wheat flour bakes up golden and has a milder flavor than baked goods made with regular whole wheat flour.
Start by simply substituting whole wheat white flour for 25 to 50 percent of the recipe´s flour content. You may wish to add an extra tablespoon or two of the liquid used in the recipe when substituting Gold Medal White Whole Wheat flour or decrease the amount of flour by one to two tablespoon for recipes that call for all-purpose flour.
From breakfast to dessert and everything in between, find classic recipes that use Gold Medal White Whole Wheat flour at www.bettycrocker.com and make adding whole grain to your daily routine even easier, without sacrificing on flavor.
For this review, I used the Gold Medal White Whole Wheat Flour in our family's favorite banana bread recipe. I tweaked this banana bread recipe from Money Saving Mom to suit our family.

Banana Bread
Ingredients:
2 c. flour, less 1 tablespoon Gold Medal White Whole Wheat Flour (I normally use 1 cup of white, 1 cup of wheat)
1 tsp. baking soda
1/2 tsp baking powder
1/2 tsp salt
1/2 c. Sucanat
1/2 c. local, raw honey
1/2 c. coconut oil or melted and cooled butter*
2 eggs, beaten
4 "brown" bananas (soft, brown bananas make a more moist, tastier bread)
1/2 teaspoon vanilla
3 Tbls milk
1 c. toasted nuts optional
Mix wet ingredients in your mixer. In a separate bowl, stir together dry ingredients. Add the dry ingredients to the wet ingredients, 1 cup at a time, and blending well after each addition. Pour into buttered and floured loaf pan and bake at 350 degrees for 1 hour and 15 minutes or until toothpick inserted into the bread comes out clean. I also like to make 4 "mini" loaves to give to our families. They usually bake in an hour, but I always keep a good eye on them.
*Worried about a coconut-y taste? Don't be. I bake with coconut oil all the time, and you cannot taste it at all!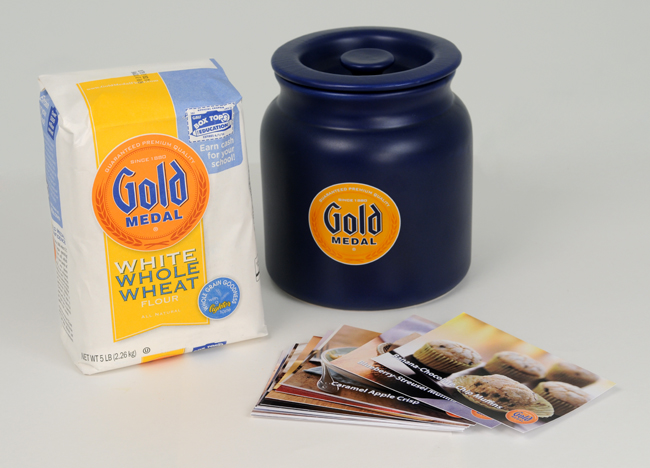 The Gold Medal White Wheat Flour Gift Pack from My Blog Spark includes:
A VIP coupon for a sample of Gold Medal White Whole Wheat flour
Instructions for conversion
Cookie Jar
Recipe Cards
Enter to Win:
Leave a comment: In what recipe would you like use Gold Medal White Whole Wheat flour?
Bonus Entry: Like Betty Crocker and Amy Loves It on Facebook. If you're already a fan (thank you!) simply leave a comment.
This giveaway will end on Saturday (10/15) at 9 PM EST. The winner will be drawn at random, and notified via email.
Disclosure: The Gold Medal White Whole Wheat flour product, information, and giveaway have been provided by Gold Medal through MyBlogSpark. I received one gift pack to review and another to give away. As always, the opinions in this post are mine.