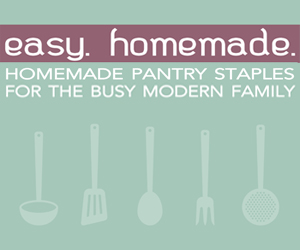 Anything that makes my life easier makes me happy. And with our family striving to live better, easy isn't always… well, easy to come by. There are times it is just simpler to open a can or pull out a box, and these times can be discouraging for me.
Enter Easy. Homemade. Homemade Pantry Staples for the Busy Modern Family. Easy recipes to make pantry and kitchen staples? Um, yes, please!
Easy. Homemade. is the latest genius from my dear friend Mandi (aka, Life… Your Way and the friend I took the sugar challenge with).
Easy. Homemade. includes over 60 homemade kitchen staples, as well as, kitchen tips and information about choosing various ingredients. This eBook is a wonderful resource for anyone who cooks: whether you are novice or expert, this is something you will refer to again and again. Plus, it includes a picture for every recipe. Ya gotta love that!
Now through August 21, you can get your very own copy of Easy. Homemade. for only $0.99. Yes, that is only ninety-nine cents. After that, the book will still be available, but will cost you $3.99. I mean, really, there's nothing to lose… it's less than a buck for 60+ recipes!
There are three ways you can purchase the book:
Easy. Homemade. Download (the Kindle and Nook files come with this purchase, plus a set of printable recipe cards and access to all of the recipes from the book on PlantoEat.com)
So, what are you waiting for? Snag your copy today!
FYI: The links in this post are affiliate links, which means if you purchase through those links, I make a little bit of moolah. If you would prefer to purchase directly through the site, you can go to easyhomemade.net.