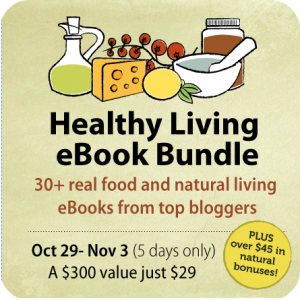 The Healthy Living eBook collection I mentioned last week is still available. The sale has been extended through Monday at 8 pm EST/7 pm CST.
About the sale:
27 prominent Healthy Living authors have joined together to bundle 34 of their most popular eBooks, valued at just over $300, for the incredibly low price of $29.
That's only $0.87 per book to gain inspiration, encouragement, and the practical resources you need for your own healthy lifestyle. Plus, receive $49 of additional FREE Bonuses, and be entered to win one of 3 great prizes.
What's Included in the Sale?
When you purchase the Healthy Living eBook collection, you will get instant access to each of the 34 eBooks listed here.
PLUS $49 of FREE Bonuses
Each Healthy Living eBook Bundle comes with $49 of FREE Bonuses from several of our favorite healthy living companies. Offers include a variety package from Redmond Trading ($21 Value), a FREE 3-Month subscription to Plan to Eat ($15 Value), and a FREE Sourdough Starter or Traditional Buttermilk Starter from Cultures for Health ($13 Value).
PLUS get entered to win one of 3 Great Prizes
Each person who purchases a Healthy Living eBook bundle is automatically entered to win any one of the following 1 Excalibur 9-Tray Dehydrator, 1 Omega VRT350 Masticating Juicer, or a R1 Royal Berkey Water Filtration System.