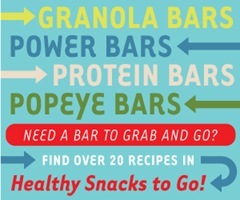 My friend Katie from Kitchen Stewardship is having a huge Black Friday sale on several of her eBooks!
This really is an amazing sale because through midnight tonight (EST), you can use coupon code BFRIDAYHALF to get half off any of the already reduced eBook bundles! If you bought the Super Pack (all 4 KS eBooks), you would pay $12.50 for over $33 worth of tasty recipes. This is a seriously good deal!
Katie's highly popular The Everything Beans Book can be purchased for 60% off with code BFRIDAYBEANS. But you have to hurry to get this price, as the coupon code is good for the first 50 customers only.
The sale includes one of my very favorite cookbooks, Healthy Snacks to Go. The No-Bake Granola Bars are a staple at our house, and the girls (and hubby!) ask for them all. the. time. They are incredibly good and super easy to make. What makes them even better is I know what goes in them; no processed junk in these yummy snacks! This eBook is worth the full price for that recipe alone, in my opinion, but through midnight on Sunday, you can get it for 40% off with coupon code BFRIDAY2NDS. This coupon code is also good for 40% off Smart Sweets and The Everything Beans Book.
So, to recap:
And, if you already own these eBooks, consider purchasing some to gift to your family and friends this Christmas!