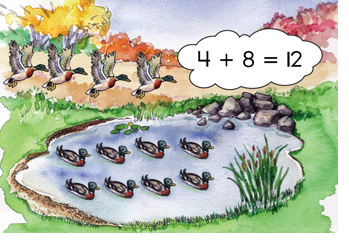 Through December 15, parents, teachers, and homeschoolers can download the Funnix Beginning Math Program for free.
Funnix Beginning Math is a 100-lesson computer program designed for children who have not learned beginning math operations.

Funnix Beginning Math will be available as a FREE download from December 1 through December 15. All components of Funnix Beginning Math are included in the download—100 animated, computer-based lessons, workbook material, a teaching guide, and a placement test for assessing the child.

Funnix Beginning Math is very user friendly. Like Funnix Beginning Reading, the math program is computer-based. Narrators direct the activities in each 35-minute lesson. A child or a small group of children watch the computer screen with a parent or teacher. The children answer questions the narrator presents. The parent or teacher reinforces correct responses and directs the program to repeat parts that were difficult for the children.

The program is unique in the sophistication of skills it teaches in only 100 lessons. Children learn different types of counting. They use counting by tens and counting by ones to solve addition problems that traditionally require carrying. For example: 45+35.
Be assured that this program is FREE. No hidden charges, gimmicks, or costs for handling and shipping. To sign up for the free download, visit the Funnix website and fill out the form. You will receive an email on how to receive the program.
Thanks, Money Saving Mom!