My girls are all about the tech gadgets these days. In fact, Abby Grace has decided she wants to use her "spend" money on an iPad or a Kindle Fire! And she isn't even 9!
I get that kids these days are receiving phones (as in iPhones… not cheapos!) at a much younger age, but are we, as parents prepared for everything that comes with this younger generation and technology? I'm not sure I am!
My kids are growing up in a time where they don't know of a life before cell phones, social media, and even the internet. *I* remember life without all of these (yes, I know I sound old), but now I rely on all three of those on a daily basis for both my business and personal life.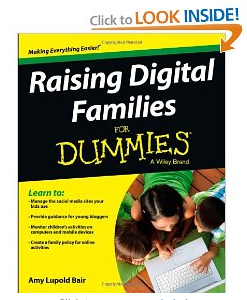 My friend Amy has written a book on raising families in this new digital age. It is available for pre-order on Amazon right now (my copy has already been purchased!), in both paperback and Kindle.
More about Raising Digital Families:
Get on the same online playing field as your children with this helpful resource.

The youngest generation will never know life without iPhones, iPods, and Facebook, and while their parents have witnessed the evolution of technology, it is still a challenge to keep up with the pace at which things change. This easy-to-understand guide helps you get up to speed on everything you need to know NOW in order to keep up with your children's online and gadget activity. The book offers invaluable guidance for managing mobile devices, social media, and the Internet before it manages you! Also featured are tips and advice for establishing family rules for technology use and how to best handle situations when rules are broken.

Covers monitoring software for computers and mobile devices
Offers advice for handling cyberbullies and introduces safe social networks for children
Addresses how to guide children who want to blog or podcast
Provides information on helpful sites that you may want to explore for more issues on various issues that relate to the future of technology

Whether you want to control mobile device usage or monitor social network activity, Raising Digital Families For Dummies will guide you through acquiring a better handle on this important part of your children's lives.
As a high-profile blogger and the creator of Twitter parties, Amy knows social media. For me, this will be a valuable resource as I help my children navigate the ever-changing internets. In fact, Abby Grace has been bugging me to let her begin blogging (I may or may not have bought a few domains for her), and while I love that she wants to be like her Momma, I do have a few reservations. Right now, the girls do not use our iPhones and iPad to access the internet; they are only allowed to play games, but I know this will soon change. I love that Amy addresses all of these concerns and more. I'm also beyond thrilled for my friend for realizing her dream of writing a book, so naturally, I want to share that with you guys!
I hope you will check out Amy's book, because while she is my friend, I truly think this is a valuable resource and very needed right now.
—> Pre-order your copy of Raising Digital Families For Dummies.