I hope you have had a fantastic Thursday! Mine started out a little rough, but we ended it on a great note. It is Day 4 of my series, 31 Days of Young Living Essential Oils, and I am having SO much fun sharing these oils with you! If this is your first visit, please read my initial post before continuing.
I may end up saying this a lot, but the oil I'm introducing you to tonight is one of my favorites. I love how it smells, and it has become somewhat of an addiction for me. Ha! It really is one of those oils that you just fall in love with and use all. the. time.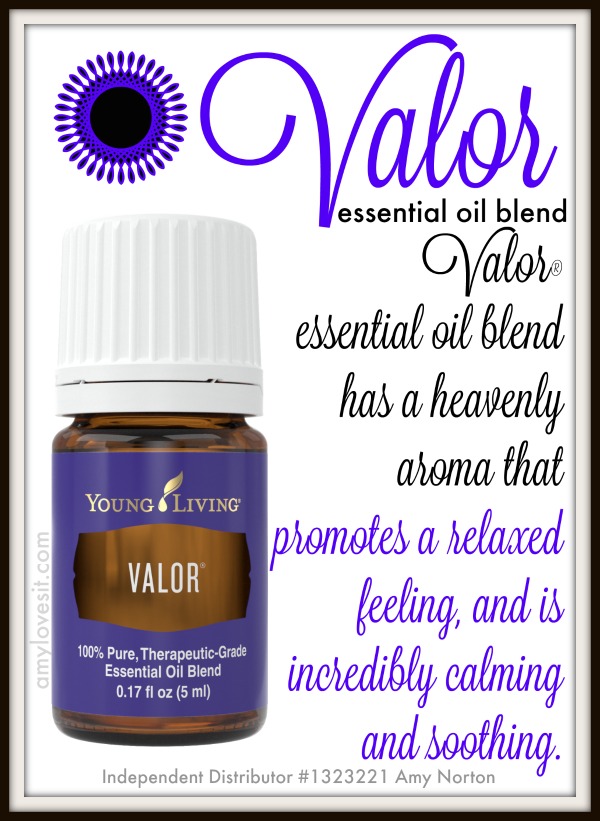 Valor is wonderful for combating occasional stress, occasional and minor anxiety, and occasional nervous tension. It's heavenly aroma promotes a relaxed feeling, and is incredibly calming and soothing. I love applying Valor to my wrists and the back of my neck. Valor is an oil I use multiple times a day.
Valor® essential oil blend is one of our most popular products and a favorite of founder D. Gary Young. Use it to greet each morning with a positive attitude or to unwind at the end of the day. Its powerful yet calming scent is versatile enough that you can integrate it into your morning and bedtime routines and anywhere in between.
Valor essential oil blend has a woodsy, positive scent that combines Black Spruce, Camphor, Blue Tansy, Frankincense, and Geranium essential oils. This wonderful-smelling blend is formulated to help empower the mind and increase self confidence. Valor is great for those times when you need a little bit of extra courage.
As I said, I use Valor a lot. I like to begin my day with a good sniff (inhaling is a quick way to get the oily vibes going). The girls love this oil too, and we use it every night, by applying it to their big toe before bed.
We have been taking Cam to the chiropractor, and I can tell a difference in his disposition if I forget to apply Valor or Tranquil to his spine and feet. He is much more calm when I remember to apply these oils!
6 More Uses for Valor Essential Oil Blend
1. Diffuse Valor in the morning to jump-start a busy day with its uplifting, affirming scent.
2. Combine with a carrier oil to unwind before bed with a relaxing foot or back massage.
3. Refresh throughout the day by directly inhaling or massaging onto your neck, chest, or hands and wrists.
4. Wear as a subtle cologne or use as a base for personalized scents.
5. Add to Young Living's Bath & Shower Gel Base or mix with Epsom salts and add to a hot bath to invigorate your bath and shower routine.
6. Apply to the big toe before bed for restful sleep; Valor supports normal, healthy breathing at bedtime
If you forced me to choose my top five oils, Valor would be on that list. It's that awesome.
For more information on essential oils, go here.
*These statements have not been evaluated by the Food and Drug Administration. This product is not intended to diagnose, treat, or cure any disease. I'm just a mom sharing my experience! As always, do what you feel is best for your family. Image sources: Young Living on Flickr.

Visit Nesting Place to see the other bloggers posting for #31Days.