Yay for Friday! We are on Day 5 of my series, 31 Days of Young Living Essential Oils. Thank you for all of your amazing support thus far. If this is your first visit, please read my initial post before continuing.
If I'm being honest, I really didn't like the smell of Frankincense when I first got it. It actually took me months to even use it again, and now I am almost out.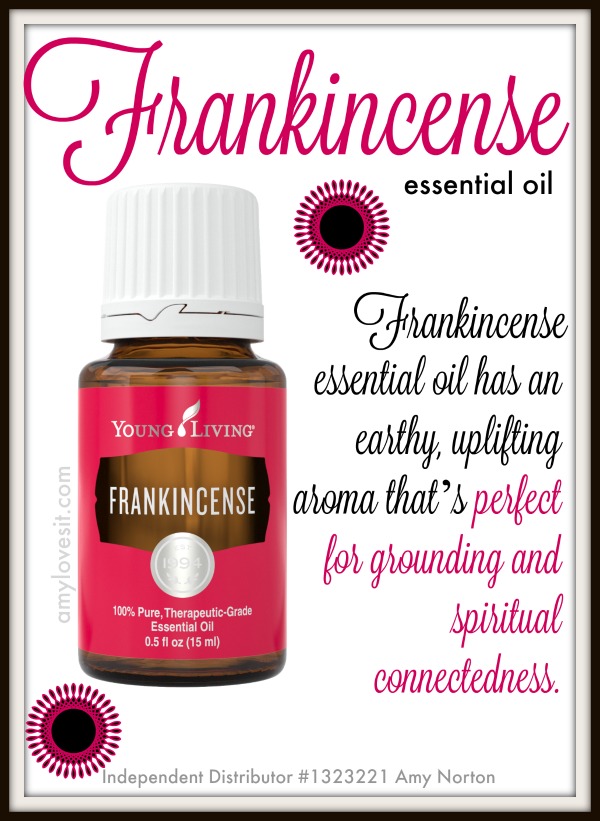 For me, Frankincense is instantly soothing. As soon as I put it on, whether it's behind my ears, on the back of my neck, or on my wrists, I feel calm immediately. I feel better about whatever is going on around me. It almost feels reassuring. I like to massage it diluted with a bit of coconut oil onto Cam's back for a calming and comforting effect. This is especially helpful around nap time or when he's extra fussy.
It's no surprise that Frankincense – Boswellia carterii – has been sought after since ancient times. The complex aroma of this oil can elevate many aspects of your life. Diffuse Young Living Frankincense oil to refine your sense of purpose or add it to your beauty routine for a luxurious experience.
Frankincense essential oil has an earthy, uplifting aroma that's perfect for grounding and spiritual connectedness. Create a safe and comforting environment when you diffuse or inhale this empowering oil—a perfect opportunity to collect your thoughts. When you seek purpose or engage in prayer or meditation, use this oil to enhance your experience.
In addition to elevated spiritual experiences, the benefits of Frankincense essential oil include maintaining radiant skin. Its ability to smooth the look of healthy skin makes this oil a key part of Young Living's Boswellia Wrinkle Cream™. Frankincense is also an important ingredient in Awaken™, Brain Power™, Forgiveness™, and Highest Potential™.
Frank is also fantastic for skin. Frankincense can be added to coconut oil for a facial cream. I massage 2 drops of Frankincense with 1 drop of Patchouli and a splash of water on my face after cleansing.
For more information on essential oils, go here.
*These statements have not been evaluated by the Food and Drug Administration. This product is not intended to diagnose, treat, or cure any disease. I'm just a mom sharing my experience! As always, do what you feel is best for your family. Image sources: Young Living on Flickr.

Visit Nesting Place to see the other bloggers posting for #31Days.